Chieftains earn spring All-
KVL

honors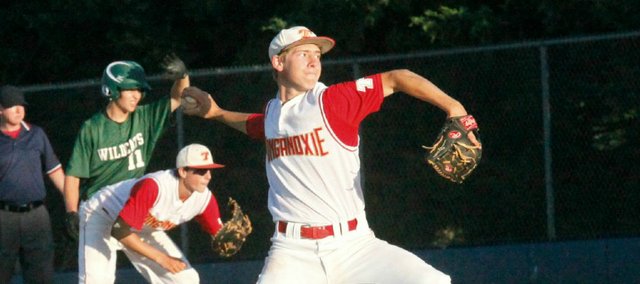 Another spring sports season is in the books in Tonganoxie, and several Chieftains' efforts have resulted in recognitions from coaches of the very teams they faced.
Fourteen THS athletes have been selected to All-Kaw Valley League teams, including four seniors to earn first-team selections.
Shane Levy and Travis Woods — the baseball team's only seniors in 2014 — each earned first-team honors after leading the Chieftains to their first state tournament since 1992. Levy, an outfielder, led the team with an even .400 batting average, 25 runs batted in and two home runs. The first-team selection is his second in as many years. Woods, a pitcher, went 8-3 with a 2.75 earned run average in his final season.
Woods was also selected to play in the Kansas Association of Baseball Coaches 2014 all-star game, which took place Wednesday at Kansas State University's Tointon Family Stadium.
The Chieftains' other All-KVL baseball selections were second-team infielders Brady Swedo and Connor Wentz-Hall, second-team outfielder Tyler Novotney and honorable mention catcher Billy Kelley.
Senior Marissa Martin earned the softball team's only first-team selection as an outfielder. A four-year varsity player, Martin, a two-time first-team selection, was the Chieftains' regular starter this season in center field. She'll continue her career as an athlete next season on the University of Saint Mary volleyball team.
Fellow seniors Caly Ingle-Maxwell and Morgan Oroke also earned league honors — Ingle-Maxwell as a second-team infielder and Oroke as an honorable mention pitcher. The duo will play collegiately next year at Hutchinson Community College and Kansas City Kansas Community College, respectively.
Senior Aly Bartholomew headlines a list of five THS soccer players named to all-league teams. Bartholomew, a defender, earned her second first-team selection after leading the Chieftains to a 9-8-1 record and their third straight appearance in a Class 4-1A regional championship game.
Forward Emily Soetaert — the program's all-time leading scorer — and midfielder Madison Simmons earned second-team nods in their final season, while sophomore midfielder Mackenzie Price and junior defender Sophia Breedlove received honorable mentions.
THS 2014 All-KVL selections
Shane Levy — First-team baseball (Outfield)
Travis Woods — First-team baseball (Pitcher)
Marissa Martin — First-team softball (Outfield)
Aly Bartholomew — First-team soccer (Defender)
Brady Swedo — Second-team baseball (Infield)
Connor Wentz-Hall — Second-team baseball (Infield)
Tyler Novotney — Second-team baseball (Infield)
Caly Ingle-Maxwell — Second-team softball (Infield)
Emily Soetaert — Second-team soccer (Forward)
Madison Simmons — Second-team soccer (Midfield)
Billy Kelley — Honorable mention baseball (Catcher)
Morgan Oroke — Honorable mention softball (Pitcher)
Mackenzie Price — Honorable mention soccer (Midfield)
Sophia Breedlove — Honorable mention soccer (Defender)