Chieftain girls open new era under Hall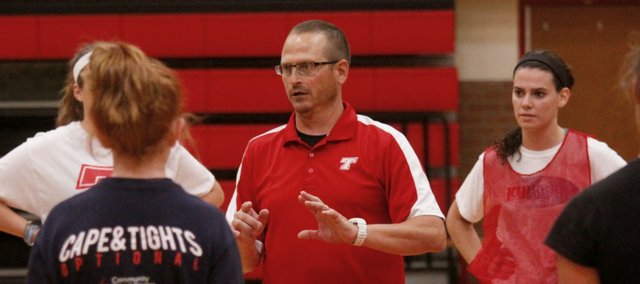 For the first time since 2002, the Tonganoxie High girls basketball program is under new leadership. But, for most of this year's Chieftain squad, the changing of the guard doesn't include an unfamiliar face.
David Hall, who has served two separate stints on the THS coaching staff since 2010, has taken the reins of the varsity program from longtime coach Randy Kraft, who recently stepped down after 12 years at the helm.
The Chieftains began the Hall era this week with a team camp in the high school gymnasium. Hall brings 20 years of coaching experience to the program, including two within the THS program.
"Coach Kraft did an amazing job here with the program, and I was fortunate to be part of it for two years," said Hall, a middle school technology teacher in the Piper school district. "They approached me about the position and we talked back and forth. I had to take care of things on my end where I work, and it worked out well. We decided together that it was a good fit, so here I am."
Most recently, Hall served as the THS freshman coach for the 2012-13 season, which also marked the varsity's last state appearance. Before that, he was a varsity assistant in 2009-10.
He stepped away from coaching last season, but as it turns out, his return was just a year away.
"I probably knew I was going to get back into it, but I just didn't know when," he said. "Sometimes those doors open, sometimes they don't."
Before coaching at Tonganoxie, Hall spent 18 years with the boys program at Piper, including 15 as head coach from 1991-92 to 2006-07. During that span, the Pirates won three Kaw Valley League titles and made two state appearance. PHS went 20-6 and finished fourth at state in Hall's final season.
Assistant coach David Walker will remain on staff for Hall's first season, while Rachelle Pauly will coach the freshman team. Walker coached against Hall as the THS head boys coach for six years before Hall stepped down at Piper.
Hall inherits a Chieftain girls squad that went 10-11 last season, winning five of its last six games. The team loses its three leading scorers in 2014 grads Emily Soetaert, Katelyn Waldeier and Kara Banks, but returns two regular starters in incoming seniors Tressa Walker and Sarah Ahart, as well as several players who saw significant varsity time.
The Chieftains may have to replace more than two-thirds of their scoring, but early stages of offseason preparation have come with a sense of enthusiasm — particularly among the team's returning upperclassmen.
"I was kind of shocked that Kraft would retire, but we knew he wouldn't put us in a bad position," said Tressa Walker, who led all returners with 6.6 points per game as a junior. "The seniors now, we had (Hall) when we were sophomores and we loved it, so I think we're really excited for this year to get started. We're going to be small, but I think we work together well. It will be a big transition from last year, but we could be pretty good at it."
THS will have plenty of opportunities to adapt to Hall's systems and philosophies throughout the summer. The team will compete in a league with various schools in northeast Kansas, including Pleasant Ridge, Eudora and Santa Fe Trail, and will also compete in a tournament later this month at Piper. Hall said he'll carry 12 players on varsity this winter, so players will have several chances to make their cases for roster spots.
The Chieftains will wrap up their team camp Friday, and according to their new coach, early returns have been nothing but positive.
"These girls have been working their tails off," he said. "It's the start of weights so they're tired and sore, but this camp has been really, really good. They're getting after it and they're having fun with it."