Brothers Market opens in Tonganoxie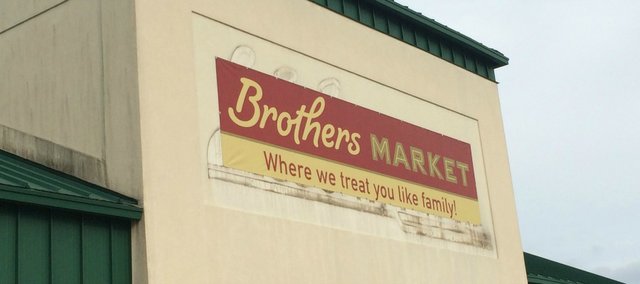 An Iowa grocer has taken over a longtime Tonganoxie grocery store.
The B&J Country Mart store officially became Brothers Market on Friday.
New signage at the store went up Friday, making it the first Brothers Market outside Iowa.
The Tonganoxie location joins three Brothers Market stores in Iowa — in Parkersburg, Cascade and Lisbon — with a fourth set to open this Friday in Denver, Iowa.
"In the span of seven days we're going from three to five stores," said Tonganoxie manager Kurt Olson. "It's been a whirlwind."
Tonganoxie is a few miles from the Hawkeye state, but there are ties that have made the new store a reality.
Of the five owners of Brothers Market — all of whom grew up in Parkersburg, Iowa — two have Tonganoxie ties. Former NFL player and grocery owner Casey Wiegmann is married to famed former Tonganoxie resident Danni Boatwright. The newest owner is Tonganoxie chiroprachtor Rob Schuck.
Olson said signage on the store is temporary and will be updated. Lighting, shelving and some refrigerators are slated for upgrades.
"It's going to be probably a three- to six-month process," Olson said.
Other renovations could come, but Olson said he didn't want to "let the cat out of the bag too far."
Though some B&J employees chose not to join the new staff, Olson said Brothers Market offered jobs to all B&J employees.
"I didn't let anybody go," Olson said.
The store will have the same hours that B&J held: 6 a.m.-9 p.m. Mondays through Saturdays and 7 a.m.-8 p.m. Sundays.
The BP gasoline pumps are temporarily out of service but are expected to operational again in the coming weeks.
Olson said he's enjoyed getting to know the community.
"We are very excited to become a part of the Tonganoxie community," Olson said. "We envision great success and growth in the coming years. And I want to personally thank everyone in the community for the warm welcome I have received."
The changeover marks the end of an extensive era.
B&J owner Jim Gambrill's grocery career started in 1972 when he opened a store where Casey's General Store now stands. He later moved to the location along East U.S. Highway 24-40 that Brothers Market has taken over.