Tidal Waves defeat Leavenworth in first meet of 2014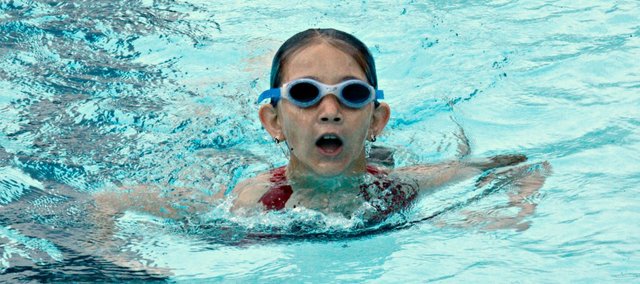 Armed with their largest roster in program history, the Tongie Tidal Waves swim team opened the 2014 season Friday in victorious fashion.
The Tidal Waves kicked off the program's sixth season with a 253-231 win against the Leavenworth Riptides at Tonganoxie Water Park. More than 200 swimmers took to the water for the season-opening meet, in which Tongie defeated its neighbors to the north for the first time in six meetings.
With a record-breaking roster of 125 swimmers — an increase of 18 from last season — the Tidal Waves took advantage of their strength in numbers, particularly in younger age divisions. Coach Janet Falk said the Riptides only fielded 80 swimmers this year and didn't have any competitors at ages 6 and under, while the Tidal Waves had 14 in that group.
"I'm able to fill relays where they're not, so that makes a huge difference there," Falk said.
The program has nearly quadrupled in size since beginning with 35 swimmers in 2009. This year's team is predominantly comprised of Tonganoxie swimmers, but also includes members from Basehor, McLouth and Eudora. Eudora has a team with Bonner Springs this season, but Falk said that program isn't open to 5- and 6-year-olds. In total, Falk said about a third of the 2014 team is new to the sport.
The Tidal Waves were particularly strong in relay competition Friday, winning nine event titles. Additionally, 20 swimmers won at least one individual title, while four won multiple events. Lee Roi Johnson and Lee Maughmer led the way with three titles each. Johnson won the freestyle, butterfly and breaststroke in the boys 14-and-under division, while Maughmer won the freestyle, backstroke and individual medley in the boys 18-and-under division.
Just like in past years, Falk said judges were lenient on younger swimmers as they continue to learn proper mechanics, but will begin to identify issues as the season progresses.
"When they're doing more difficult strokes, it takes a lot of upper body and timing," she said. "That form isn't quite there, but as the season goes, they really start to perfect the technique."
The Tidal Waves will return to competition at 8 a.m. Friday when they welcome Piper to town.
Tongie Tidal Waves 253, Leavenworth Riptides 231
6 and under results
Gavin Rhodes — First in freestyle, first in backstroke
Henry Welsh — Second in freestyle, second in backstroke
Joshua Duvall — Third in freestyle
Baylee Ingleheart — First in freestyle, first in backstroke
Olivia Erwin — Second in freestyle
Maddie Pruitt — Second in backstroke
Amanda Kite — Third in freestyle
Ellie Jackson, Ashlyn Johnson, Baylee Ingleheart, Lauren Dunn — First in freestyle relay
Joshua Duvall, Ava Barker, Annebelle Welsh, Amanda Kite — Second in freestyle relay
8 and under results
Luke Kesinger — First in freestyle, third in breaststroke
Gavin Shupe — First in breaststroke, second in freestyle, second in butterfly, third in backstroke
Garrett Edwards — First in butterfly, second in breaststroke, third in freestyle
Josiah Weatherford — First in backstroke
Ellie Jackson — First in freestyle, first in butterfly
Isabella Parker — First in individual medley, second in freestyle, second in butterfly
Lilly Pruitt — Second in breaststroke, third in freestyle
Mallory Dick — First in backstroke
Taylor Ingleheart — Second in backstroke
Laikyn Bennett — First in breaststroke, second in individual medley
Katelyn Dunn — Third in breaststroke
Garrett Edwards, Silas Kirchoff, Luke Kesinger, Gavin Shupe — First in freestyle relay
Gavin Rhodes, Raileigh Grabill, Joseph Duvall, Josiah Weatherford — Second in freestyle relay
Stella Bradley, Charlsie Christner, Lillie Kokoruda, Brittany Stein — Second in freestyle relay
Joseph Duvall, Gavin Shupe, Garrett Edwards, Luke Kesinger — First in medley relay
Ellie Jackson, Alaina Rogers, Brette Hayden, Laikyn Bennett — First in medley relay
Ellie Suber, Lilly Pruitt, Madelyn Smith, Isabella Barker — Second in medley relay
10 and under results
Gage Hayden — First in freestyle, third in butterfly, third in breaststroke, third in individual medley
Brenan Kuzmic — Third in backstroke
Emma Jackson — Second in breaststroke, third in freestyle
Mikayla Rhodes — First in butterfly, third in individual medley
Lulu Meyers-Arenth — Third in butterfly
Corinne Morgan — Third in backstroke
Abby Vick — Third in breaststroke
Andy Scribner, Gage Hayden, Mason Khanthaboury, Cole Bennett — Second in freestyle relay
Maris Vaughn, Grace Himper, Marie Smith, Abby Vick — Second in freestyle relay
Caleb Weatherford, Ben Suber, Dalton Regehr, Cole Bennett — First in medley relay
Emma Morgan, Lulu Meyers-Arenth, Emma Jackson, Brilei Hendrix — First in medley relay
12 and under results
Kyle Chambers — First in freestyle, second in individual medley, third in butterfly
Caden Hellman — Second in freestyle, third in individual medley
Brenden Rogers — Second in backstroke, third in breaststroke
Jack Duvall — Third in backstroke
Theona Vaughn — Third in freestyle
Meron Hayden — Third in butterfly, third in individual medley
Emma Morgan — First in backstroke
Harlei Hendrix — Third in breaststroke
Jack Duvall, Emmett Keene, Scotty Vick, Kyle Chambers — Second in freestyle relay
Emmie Derzenski, Meron Hayden, Harlei Hendrix, Renna Folsom — Second in freestyle relay
Brenden Rogers, William Weatherford, Scotty Vick, Kyle Chambers — Second in medley relay
Emmie Derzenski, Brynna Ladesic, Meron Hayden, Merkaia Khanthaboury — Second in medley relay
14 and under results
Lee Roi Johnson — First in freestyle, first in butterfly, first in breaststroke
Garrett Eason — Second in freestyle, second in butterfly
Alex Falk — Third in freestyle, third in butterfly
Jon Derzenski — First in backstroke
Phillip Vaughn — Third in backstroke
Holden DeGraff — Third in individual medley
Rilee Garner — First in freestyle, third in butterfly, third in individual medley
Samantha Koch — Second in freestyle, third in backstroke
Isabella Behm — Third in breaststroke, third in freestyle
Aaron Plaschka, Braxton Shupe, Alex Falk, Phillip Vaughn — Second in freestyle relay
Bailey Bradley, Samantha Koch, Clara Altenhofen, Allyson Sparks — Second in freestyle relay
Jon Derzenski, Rylan Hellman, Lee Roi Johnson, Sebastian Boone — First in medley relay
Isabella Behm, Kristi Chambers, Allyson Sparks, Rilee Garner — Second in medley relay
18 and under results
Lee Maughmer — First in freestyle, first in breaststroke, first in individual medley, second in butterfly, second in backstroke
Luke Falk — First in backstroke, second in freestyle, second in breaststroke, third in butterfly, third in individual medley
Alex Falk — Third in backstroke
Andrew Behm — Third in breaststroke
Lee Seittner — First in freestyle, second in butterfly, second in individual medley, third in breaststroke
Lyndon Seittner — Second in freestyle, second in backstroke, third in butterfly, third in individual medley
Meagan Behm — Third in backstroke
Meron Hayden — Second in breaststroke
Mitch Brock, Andrew Behm, Meagan Behm, Lyndon Seittner — First in freestyle relay
Lee Maughmer, Lyndon Seittner, Meagan Behm, Luke Falk — First in medley relay