Face to Face: Tonganoxie building inspector Christy Carter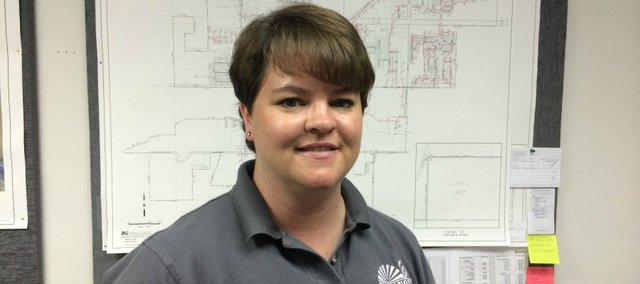 Name: Christy Carter
Born: Carter was born in Onaga, raised in Joplin, Mo.
Family: Husband, Chris; two stepdaughters, Autumn, 15, and Tori, 12.
Occupation: Building inspector and codes enforcement officer for Tonganoxie since March.
"I love it here," Carter said. "Everybody is so friendly and so easy to get along with. It's just a nice quaint, cute community."
Dream job as a child: Fighter pilot. Carter had a military academy scholarship, but her father said "no" because of a stigma attached to a woman attending a military academy.
Digging deeper: Carter actually found her niche in code work. She became certified through the International Code Council.
She started with animal control in Webb City, Mo., but filled in with other departments.
"The code enforcement officer quit and they said 'Guess what you get to do,'" Carter said. "The building inspector wanted to retire the following year and they said 'Guess what you get to do.'"
The public works director took a different job, so that position's duties were split among three responsibilities. Carter took on building department director duties.
"I've moved up the ladder, not always voluntarily," Carter said with a laugh.
She also worked for the State Fire Marshal's Office and then the Topeka Housing Authority, where her husband is maintenance director.
Carter received a mayor's commendation for her work at a previous job in helping an elderly resident get some medical help and making her house more structurally sound.
In Carter's spare time, she likes to read and fish. Her favorite fishing spot: the spillway at Melvern Lake in Osage County.
"You seriously can't reel them in fast enough," Carter said.
Her biggest catch was an 18-pound catfish she caught on a line in a pond while helping her former grandmother strip wallpaper.
The catfish nabbed a perch, which took the worm bait.
"He was greedy," Carter said. The catfish wouldn't let go of the perch."