Weseman says goodbye at final board meeting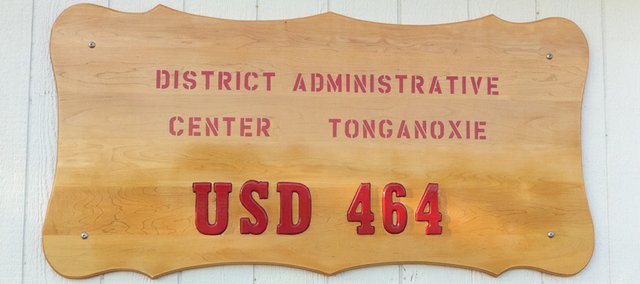 No tears were shed when Randy Weseman removed his name tag after Monday's Tonganoxie school board meeting, but emotion could be heard in his voice, as well as in those he's worked with for the past three years.
Weseman, who recently announced his retirement as Tonganoxie's superintendent after three years, participated in his final board meeting Monday in the Tonganoxie Middle School library. At the end of the meeting, he officially passed the torch to new superintendent Lyn Rantz, who was also in attendance with her family, but not before receiving kind words from the board members he's come to know.
"I think I speak for the board when I say we are very happy you stayed longer than one year," said board president Kris Grinter, who had to stop to collect herself before continuing. "We could not have had a better superintendent. Lyn has some pretty big shoes to fill."
Formerly the superintendent at Lawrence Public Schools, Weseman arrived in Tonganoxie in 2011 and originally intended to stay for just one year, but agreed to stay on the board longer.
Weseman, who received a standing ovation from all in attendance after the meeting, expressed his gratitude to the board members, citing them as his reason for staying two years longer than he'd planned.
"You're the ones who deserve the pat on the back," he told the board. "It's been a pleasure to be here. I've learned a lot being here. It rounded me out career-wise and gave me another vantage point. I just believe in public education."
The ovation was the second of the evening for Weseman, who also received a lighthearted round of applause after a fashionably late arrival to his final meeting.
Rantz, who comes to Tonganoxie from the Blue Valley school district in Johnson County, will take over operations July 1. She introduced her husband, Micky, and their sons Andrew and Brett and daughter Taylor, to the board at Monday's meeting. Andrew will begin sixth grade this fall, Taylor fourth and Brett second.
The family has purchased a house in Tonganoxie and will move to town in late July.
"We're just really excited to be here," Rantz said. "The kids are very excited about all the baseball fields and softball fields. It's very nice to be here with you all and I'm just really looking forward to working with you."
Board meetings usually take place in the high school west campus, but this month's meeting was set to include a tour of the new Tonganoxie Elementary School construction site. However, inclement weather kept board members indoors.
Instead, members of Universal Construction and HTK Architects updated board members on the construction, which has seen noticeable progress in recent weeks. Framework is starting to become visible as walls of bottom-level classrooms start to go up.
"We can see something now, so it's exciting," Weseman said. "You can actually start to see the shell of the building. It's just really going well."
Board members and presenters also discussed potential layouts for athletic facilities and other uses of the space around the new building. Some of the existing fields were removed or are no longer usable because of the construction site.
Mark Franzen of HTK said the firm could show plans for athletic fields for various age groups that would maintain a level of parity with the facilities at the high school.
"We don't want to deliver anything less than what you already had here," Franzen said.
In other business, the board:
• Voted, 7-0, to approve the 2013-14 budget closing transfer. Weseman said he's been working with Rantz on a budget calendar for 2014-15. Budget meetings are set for June 26.
• Voted, 7-0, to approve a bid from Cable Guys Communication for a structured cabling system in the amount of $92,330. David Milhon, the district's director of technology, said the big will include the copper and optical fiber cabling for the network, as well as wiring for card readers at doors and security cameras.
• Voted, 7-0, to approve the purchase of one 2014 Ford Fusion for $10,970 and four 2015 Ford Transit XL Wagons for $101,728. Weseman said the Fusion will be paid for in cash and will likely be received within two or three days of payment. Meanwhile, the Transits, which hold 10 passengers each, won't arrive until August — likely after the beginning of the school year. The district will finance the Transits through First State Bank and Trust.
• Voted, 7-0, to approve the purchase of a portable stage from Wenger in the amount of $10,970. The choir fund will cover $2,000 of the cost, but Weseman said the stage is "highly portable" and can be used all over the district.
• Voted, 7-0, to approve the sanding and refinishing of the high school gymnasium at a cost not to exceed $17,000, as well as the repair and remodeling of men's and women's restrooms at the high school.
• Voted, 7-0, to approve the repair of the high school parking lot with a submitted bid from Harbour Construction at $15,120.
• Voted, 7-0, to dispose of inoperable property — an Eagle car lift formerly used by the high school automotive class when it was in the district office building. Bill Seymour requested the lift be sold as scrap and the proceeds deposited into the general fund.
• Voted, 7-0, to approve the authorization and publication of the resolution for the capital outlay fund tax levy.
• Voted, 7-0, to approve the presented salary package for administrative and classified staff.
• Voted, 7-0, to approve the 2014-15 negotiated agreement.
• Voted, 7-0, to approve resignations of Jared Jackson, THS business teacher and head golf coach; Jacob Linnell, THS concessions; Crystal Matthews, regular bus route driver; Tiffany Parker, kindergarten grade level chair; and Rachelle Pauly, TMS girls assistant track coach.
• Voted, 7-0, to approve contracts for Kristin Barnes, second-grade teacher; Phil Jones, seventh-grade head football coach; Sarah Laundy, THS concessions; Jacob Linnell, TMS athletics director; Rose Marconette, TES interrelated teacher; Jeremy Martin, seventh-grade language arts teacher; Keith Miller, THS assistant debate coach, eighth-grade girls assistant basketball coach; Rachelle Pauly, THS head girls track coach; Jordan Poskey, fourth-grade teacher; Sondra Sparks, kindergarten grade level chair; Ross Starcher, THS head wrestling coach; John Tollefson, THS science club sponsor; Preston Troyer, THS head boys track coach; Kevin Wade, THS assistant football coach.