THS

boys basketball begins transition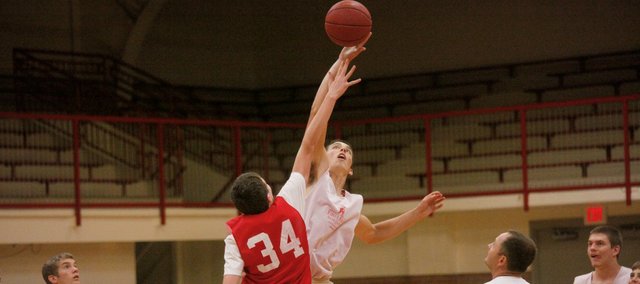 Much like its counterpart on the football field, the 2014-15 Tonganoxie High boys basketball team will bear very little resemblance to the team it put on the floor a year ago. Five players are gone to graduation and another is now at another school, so Shawn Phillips' squad will have quite a different feel this winter.
Just three lettermen and one starter return from last year's 9-12 team, so several varsity spots are currently up for grabs. Competition began earlier this month when the Chieftains opened their weekly game schedule at Rockhurst University, and offseason work continued this week with a four-day team camp at THS.
"It's gone pretty well, I think," Phillips said of the early summer preparation. "Our senior class has been really good this year with their leadership. They've done a good job of keeping our energy level high. We have a group here that plays fast, they compete and they all get along really well.
"They all seem to be looking out for each other, so that's always a positive thing with a new team."
Senior Jared Sommers is the team's most experienced returner after starting in 13 games last year, while fellow seniors Brady Swedo and Carl Hecht saw action in 21 and 19 games, respectively. Devan Smith and Greg DeVeau, who round out the 2015 class, also saw marginal varsity time, but no other current player saw more than mop-up duty.
In addition to five graduated seniors — all of whom played in at least 18 games — THS must fill the void left by leading scorer Jack Dale, who has transferred to rival Basehor-Linwood for his junior season. Dale averaged 11.9 points per game as a sophomore.
With so many inexperienced players jumping from junior varsity to varsity, members the incoming senior class are using the summer to make the transition as seamless as possible for their younger teammates.
"We'll just build confidence in them," said Sommers, who averaged 5.9 points per game last year — the best among returning players. "It's a lot different and more fast-paced, so we'll just keep on them about what they need to do and improve on. I'd like to see everybody compete for every spot. Like Coach said, no spot is set already, so everyone's just got to compete in everything that we do. Offense, defense, every loose ball, you've just got to make yourself better every day."
Sommers echoed Phillips' thoughts on the team's cohesion, which could pay dividends when the season tips off in November.
The varsity team will continue to play every Tuesday night at Rockhurst, while the freshman and JV teams will play on Wednesdays at Bishop Miege. Additionally, the Chieftains will participate in a camp this weekend at Creighton University in Omaha, Neb., and will play in tournaments later this summer at Atchison and Eudora.
"What I'd really like to see is them continue to learn and compete," Phillips said. "If they learn and compete, the rest will take care of itself."