McLouth trio earns All-State softball honors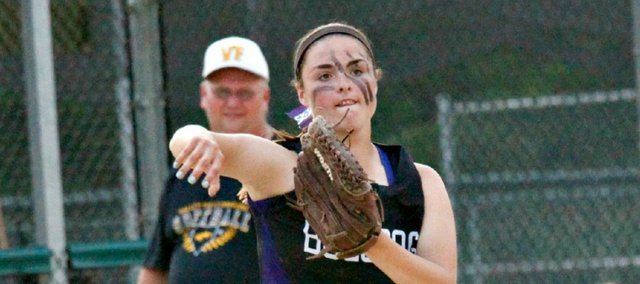 After leading McLouth High to its first state softball appearance in three years, a trio of Bulldogs have been recognized among the top talent in the state.
Senior Konner Patterson and sophomores Dominique Tullis and Shannon Greene have each earned Class 2-1A All-State selections from the Kansas Softball Coaches Association.
Patterson, who will play collegiately next season at Highland Community College, earned her fourth consecutive first-team nod as an infielder. She hit a team-best .796 with 22 doubles, seven triples, one home run and 36 runs batted in. She also posted a .992 fielding percentage at third base.
Tullis, a two-year starter in center field, joins Patterson on the first team. She hit .505 and drove in 21 runs on the way to her first All-State bid.
Greene, a pitcher and first baseman, picked up her first All-State selection as a second-team infielder. She hit .604 with two home runs and 37 RBI, two of which came on a game-winning double against Valley Falls in the regional finals. She also went 10-4 in the pitcher's circle with 146 strikeouts.
MHS went 17-5 this season and made its inaugural appearance in the 2-1A state tournament in Great Bend. The Bulldogs were eliminated in a 10-0, six-inning loss to eventual state runner-up Hillsboro in the first round.