Mirror's cutest pet contest near 30 entries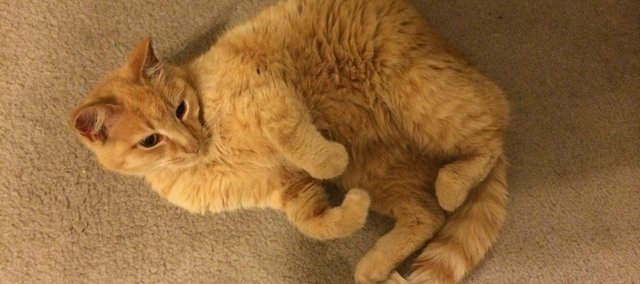 A Tonganoxie dachshund currently is viewed as the cutest pet around, but there's plenty of time left for The Mirror's Facebook followers to cast their votes online.
Shyanne Gergick's dachshund Charlie Marie is the top vote-getter so far in The Mirror's Cutest Pet Contest, which is taking place throughout June.
The pet with the most votes at the end of the month will be featured in a July issue of The Mirror.
Of the 27 entries, 20 are dogs, six are cats and one is a Polish chicken.
"It's great to see the participation from the community," said Shawn Linenberger, Mirror news editor. "There are some pretty adorable pets on our Facebook page."
Gergick's dog has 66 votes, while a bulldog named Sugar has the second-most votes with 33. Sugar belongs to Tammy and Gary Wagner of Tonganoxie. Fellow Tonganoxie resident Meron Hayden has a Siamese cat named Diamond, which has the third-most votes with 21.
Many of the other entries aren't far behind.
Anyone interested in voting just needs to "like" the Mirrror's Facebook page, facebook.com/TonganoxieMirror and then find the Cutest Pet Contest album. Inside the album, readers can vote for the pet(s) they find to be the cutest by hitting the "like" button for the individual pets.
To enter in the contest, readers can submit a photo of their animal, including name, pet's name, his or her breed and city of residence. Submissions can be sent to slinenberger@theworldco.info.
"Photos can be submitted throughout the month, but the earlier the photos are submitted the more time readers have to like the photos," Linenberger said.
The contest is taking place in June in an effort to raise awareness about National Pet Preparedness Month.
According to the American Humane Association, there are 10 items people should pack in an emergency kit for their pets:
• Food (your pet's regular food)
• Water
• Leash and collar
• Bowl(s)
• Photo of your pet and a photo of you with your pet
• Medications your pet needs
• Immunization/vet records (keep both updated)
• Pet carrier
• First aid kit
• Contact list of pet-friendly hotels, veterinarians, American Red Cross, American Humane Association and out-of-town friends/family