Tidal Waves win home finale, shift focus to prelims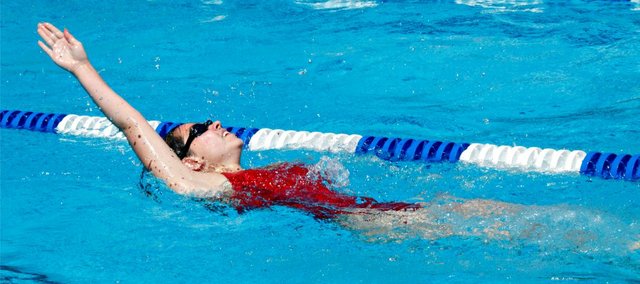 The Tongie Tidal Waves swim team wrapped up the home portion of its schedule in victorious fashion Friday, winning a triangular with Bonner Springs and Eudora at Tonganoxie Water Park.
The Tidal Waves used their strength in numbers to rack up 581 points, finishing well ahead of Bonner Springs' 197 and Eudora's 118.
Tongie combined for 40 individual titles, and several swimmers won multiple events. Marisa Kearns, Garrett Eason, David Falk and Emma Stilgenbauer led the way with four titles each, while Ellie Jackson had three. Eight Tidal Waves won two events each. As a team, Tongie also won gold in five relay events.
For the second straight meet, the schedule was altered because of time constraints. Medley relays were cut from the race schedule.
The Tidal Waves don't have a meet this week, but they'll begin preparation for the East Kansas Swim League preliminaries and finals, which will take place next week in Leavenworth. The top eight swimmers in each age division will qualify for finals, which will take place July 3. All swimmers are eligible for relay competition.
6 and under results
Baylie Ingleheart — First in freestyle and backstroke
Gavin Rhoads — Second in freestyle and backstroke
Ava Barker — Second in freestyle and backstroke
Mark Geiger — Third in freestyle, fourth in backstroke
Henry Welsh — Fourth in freestyle, fifth in backstroke
Annebelle Welsh — Third in backstroke
Edyn Jackson — Third in freestyle
Olivia Erwin — Fourth in freestyle
Ashlyn Johnson — Fourth in backstroke
Lauren Dunn — Fifth in backstroke
Amanda Kite — Fifth in freestyle
Ava Barker, Amanda Kite, Baylie Ingleheart and Edyn Jackson — First in freestyle relay
8 and under results
Gavin Shupe — First in breaststroke and individual medley, third in freestyle and backstroke
Garrett Edwards — Second in butterfly and individual medley, fourth in backstroke, fifth in freestyle
Luke Kesinger — Second in freestyle and backstroke
Joseph Duvall — Fifth in backstroke
Ellie Jackson — FIrst in freestyle, butterfly and individual medley
Brette Hayden — First in breaststroke, fourth in butterfly
Mallory Dick — Second in backstroke
Laikyn Bennett — Second in breaststroke
Charlsie Christner — Third in backstroke
Isabelle Barker — Third in butterfly and breaststroke, fourth in individual medley, fifth in freestyle
Katelyn Dunn — Fifth in breaststroke and individual medley
Gavin Shupe, Luke Kesinger, Garrett Edwards and Josiah Weatherford — First in freestyle relay
Charlsie Christner, Taylor Ingleheart, Brittany Stein and Isabel Ferguson — Third in freestyle relay
10 and under results
Gage Hayden — First in freestyle and breaststroke, second in individual medley, fourth in butterfly
Dalton Regehr — Second in butterfly, fifth in breaststroke
Brenan Kuzmic — Third in breaststroke and individual medley
Ben Suber — Third in backstroke, fifth in individual medley
Cody Kesinger — Fourth in backstroke, fifth in freestyle
Mason Khanthaboury — Fifth in backstroke
Alex Lungo — FIfth in butterfly
Emma Jackson — First in breaststroke and backstroke, second in freestyle
Emma Morgan — First in freestyle and individual medley, fourth in butterfly
Mikayla Rhoads — First in butterfly, second in individual medley, fourth in freestyle
Marie Smith — Second in backstroke, fifth in breaststroke
Mikayla Myers-Arenth — Third in butterfly, fifth in freestyle
Madeline Funk — Fourth in breaststroke
Kristi Chambers — Fifth in individual medley
Evan Shupe, Caleb Weatherford, Mason Khanthaboury and Andy Scribner — Second in freestyle relay
Brilei Hendrix, Malison Fisher, Grace Himpel and Abby Vick — Third in freestyle relay
12 and under results
Caden Hellman — First in backstroke and individual medley, third in freestyle and breaststroke
Kyle Chambers — First in breaststroke and freestyle, fourth in individual medley
Scotty Vick — Second in butterfly, fourth in backstroke, fifth in freestyle and individual medley
Emmett Keene — Third in butterfly
Dustin Rhoads — Fourth in butterfly
Brennen Wolfe — Fourth in breaststroke
Jack Duvall — Fifth in backstroke
Declan Franey — Fifth breaststroke
Marisa Kearns — First in butterfly, freestyle and individual medley
Meron Hayden — First in backstroke and breaststroke, third in individual medley, fifth in freestyle
Leah Stein — Second in butterfly, third in freestyle
Kirstin Stemmons — Second in backstroke
Elizabeth Funk — Second in freestyle
Merkaia Khanthaboury — Third in butterfly
Emmie Derzinski — Fourth in butterfly
Theona Vaughn — Fourth in backstroke, fifth in individual medley
Arianna Myers-Arenth — Fifth in butterfly and breaststroke
Emmett Keene, Jack Duvall, Kyle Chambers and Declan Franey — First in freestyle relay
Allyson Sparks, Brynna Ladesic, Emmie Derzinski and Jordyn Bosley — Second in freestyle relay
14 and under results
Garrett Eason — First in butterfly, backstroke, breaststroke and individual medley
Alex Falk — First in freestyle, second in backstroke
Holden DeGraff — Second in freestyle, butterfly and breaststroke
Braxton Shupe — Second in individual medley, fifth in freestyle
Rylan Hellman — Third in freestyle and butterfly
Jon Derzinski — Third in individual medley
Phillip Vaughn — Fourth in freestyle and backstroke
Joshua Bosley — Fourth in breaststroke, fifth in backstroke
Jake Derzinski — Fourth in individual medley
Joe Derzinski — Fourth in butterfly
Sebastian Boone — Fifth in breaststroke
Aaron Plaschka — Fifth in butterfly
Bailey Bradley — First in breaststroke, third in butterfly and individual medley, fourth in freestyle
Rilee Garner — First in butterfly, second in individual medley, third in freestyle and backstroke
Marisa Kearns — Second in breaststroke
Merkaia Khanthaboury — Fourth in breaststroke
Leah Stein — Fourth in individual medley
Kirstin Stemmons — Fifth in individual medley
Baylee Wolfe — Fifth in breaststroke
Meron Hayden — Fifth in butterfly
Garrett Eason, Rylan Hellman, Joe Derzinski and Braxton Shupe — First in freestyle relay
Elizabeth Funk, Bailey Bradley, Rilee Garner and Merkaia Khanthaboury — First in freestyle relay
18 and under results
Emma Stilgenbauer — First in freestyle, butterfly, breaststroke and individual medley
David Falk — First in freestyle, butterfly, breaststroke and individual medley
Marisa Kearns — First in backstroke
Luke Falk — Second in butterfly, backstroke and individual medley, fifth in freestyle
Lee Seitter — Second in breaststroke and individual medley, third in freestyle, fourth in backstroke
Mitch Brock — Second in breaststroke
Emily Chambers — Third in breaststroke, fifth in butterfly and individual medley
Lyndon Seitter — Third in butterfly and individual medley, fourth in freestyle, fifth in backstroke
Andrew Behm — Fourth in freestyle
Meagan Behm — Fourth in breaststroke
Andrew Behm, Lyndon Seitter, Meagan Behm and David Falk — Second in freestyle relay