Sandburg signs with Washburn golf program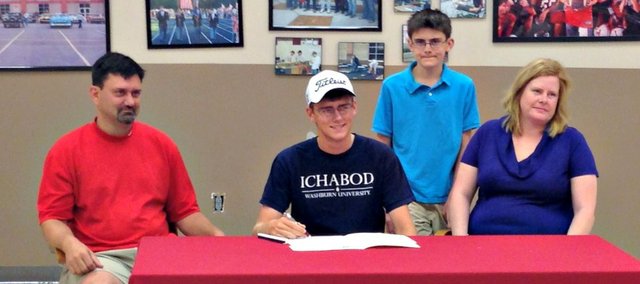 Drew Sandburg has known his college destination for quite some time, but until recently, his future as a golfer remained in question. Last month, that question finally was answered.
Sandburg has signed a national letter of intent with Washburn University in Topeka. The signing comes after more than a year of discussions with Ichabod coach Jeff Stromgren, who first approached Sandburg at regionals his junior year.
"It was a big relief," said Sandburg, one of just two four-time state qualifiers at THS. "I knew earlier in the year that I was going there for academics, but putting golf on top of that was just awesome. (Stromgren) told me to keep him updated with all my stuff, so I kept him updated through my senior year. I found out after regionals this year that he offered me a spot."
One of the most decorated golfers in program history, Sandburg led the Chieftains this year with a 74.7 stroke average in 10 tournaments. He won two tournament championships, including his first Kaw Valley League title, and finished second at the Class 4A state tournament May 27 in Mayetta. He took seventh at state as a junior.
As a freshman and sophomore, Sandburg helped THS to runner-up team finishes at state. THS came within one stroke of a team title in 2013, finishing second to Piper in Kansas City, Kan.
In addition to Chieftain coach Jared Jackson, Sandburg worked with the program's top golfer, 2012 grad and individual state champ Colby Yates, for his first two seasons. Sandburg said he spent countless hours working with Jackson and Yates outside the team's regular practice schedule.
"It's a boost that I don't think many people ever have," he said. "I probably would not be here if it wasn't for Colby and Jackson. They lifted my game and made me so much better than what I was."
Sandburg will continue to play in tournaments until he reports to Washburn in mid-August. Unlike the high school season, the college season is split between the fall and spring. The Ichabods tied for fifth place at last year's Mid America Intercollegiate Athletics Association tournament in Lawrence.