Three Chieftain wrestlers medal at state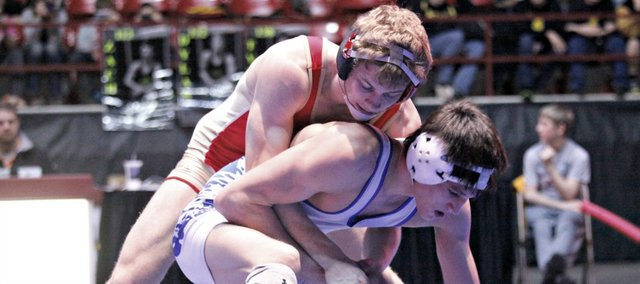 Salina — Sometimes, in the world of high school wrestling, less is more.
Tonganoxie High took fewer wrestlers to this year's Class 4A state tournament than it did last year, but the end result was anything but worse. The Chieftains tied the school record they set in 2013 with three medalists, and this year's haul was even better. Droughts were ended, losses were avenged and, when the final match ended, THS again found itself in the top 10 of the team standings.
Coach Jeremy Goebel's squad matched last year's 10th-place finish, finishing in a four-way tie with Bonner Springs, Buhler and El Dorado with 48 points.
"Goebel always stresses about finishing, and we finished it right this year," said junior Asher Huseman, one of five THS wrestlers to compete in the Salina Bicentennial Center. "Placing in the top 10 at the state tournament is becoming a tradition."
Huseman, a three-time state participant, ended an eight-year drought when he went 3-0 Friday to reach the 152-pound state championship match. He took down the state's first- and third-ranked wrestlers to become the first THS state finalist since current assistant coach Ross Starcher in 2005.
After defeating Chanute's Daniel Dees in the first round, 6-0, Huseman (33-6) met with No. 3 Scott Whitson of Buhler in the quarterfinals. Whitson grabbed an early lead, but Huseman battled back for a 12-5 victory. The quarterfinal win set up a match with top-ranked Paul Suhr of Andover Central. Huseman took 3-2 lead after one period, added a one-point escape in the second and fended off Suhr for the duration of the third to earn a spot in Saturday's final.
He dropped a 5-0 decision to Holton's Lucas Lovvorn in the title match, but later admitted he can still take pride in being on of just two wrestlers in the program to battle for a gold medal.
"It felt really good just taking it one match at a time," Huseman said. "I just had to stay focused. It means a lot and I got a lot of support from the community, so that was really cool."
A pair of seniors rebounded from quarterfinal losses to end their careers on the awards podium. Clayton Himpel (132) opened Saturday's competition with three straight wins — including a 12-2 victory against Holton's Jonah Lutz in a regional finals rematch — to reach the consolation finals. He took fourth for the third time in four years when he fell to Chanute's Adam Cole in the third-place match.
Meanwhile, Zeke Kissinger (220) won his first two matches Saturday before dropping an 8-4 decision to Chandler Carter of De Soto in the consolation semis. He bounced back with a 1-0 win against Osawatomie's Tanner Foulk to finish fifth. Kissinger's odd-numbered state finish just the second in Tonganoxie's history. He joins fellow fifth-place finisher Jeremy Maus, who accomplished the feat as a senior in 2010.
"Going into the state tournament, you're going to be dealt various hands through various rounds," Goebel said. "You've got to overcome adversity in certain situations, and our kids responded well to finish the tournament off right. That first day, we had a couple kids who didn't win some matches they definitely wanted to, but they responded and finished it the hard way."
Senior Luke Carey (195) and junior Garrett Martin (138) also represented the Chieftains over the weekend, but failed to medal. Martin was eliminated after going 0-2 on Friday, and Carey's tournament ended when he lost his second consolation match on Saturday.
Holton repeated as the team champ with 114 points — 38 more than runner-up Chanute.
After the state tournament, Goebel spoke highly of all five qualifiers, who each made it to state by reaching the regional finals Feb. 21-22 in Holton.
"Those kids have invested a lot of time, and they have a place in Chieftain wrestling for sure," he said.
Huseman, Martin and fellow junior Dalton Tavis — a two-time state qualifier who missed this season with an injury — will headline what looks to be a young team in 2014-15. Goebel said next year's Chieftains will feature several freshmen looking to make an immediate impact on varsity.