Face to Face: Tonganoxie Recreation Commission board chair Drew Johnson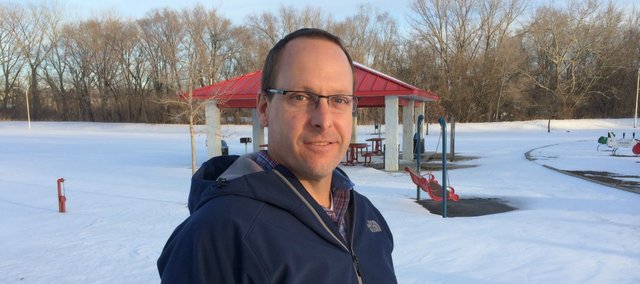 Name: Drew Johnson
Born: He was born in Kansas City, Mo., and grew up in Prairie Village. He graduated from Shawnee Mission East High School.
Family: Wife, Amy; and two sons, Ben, a Tonganoxie High School senior, and Matt, a THS freshman.
Occupation: Johnson is a branch manager for Kaeser Compressors in Lenexa. He also is board chair for the Tonganoxie Recreation Commission.
Dream job as a child: "I was a pretty avid baseball player, so I'm sure at one point I wanted to be a baseball player," Johnson said. "Obviously that didn't work out."
Digging deeper: Johnson actually played baseball through his freshman year of high school, but started working his sophomore year.
He went to Kansas University and earned degrees in personnel administration and psychology in 1990.
While at KU, he met Amy, who now teaches art at THS.
They lived in Shawnee, but wanted to move slightly closer to her family — they live on the family farm in rural Wakefield near Junction City.
"We wanted to move a little west to shorten that up," Johnson said about trips to Wakefield.
They moved to a rural Tonganoxie spot when Ben was in first grade.
Johnson said Tonganoxie has much to offer in recreation, whether it's parks, ball fields or various activities.
"If you look at the program directory, there's something in there for everybody," Johnson said.
Johnson's family lives on about 30 acres. It's a change of pace for someone who grew up in the Shawnee Mission school district.
"I split a lot of firewood and like to fish and hunt," Johnson said. "I really never thought I'd likve out here in the rural area.
"I wasn't really a mechanic. I've learned how to jerry-rig things. You have to be a little self-sufficient out here."