Tonganoxie officials delay demolition plans for former police station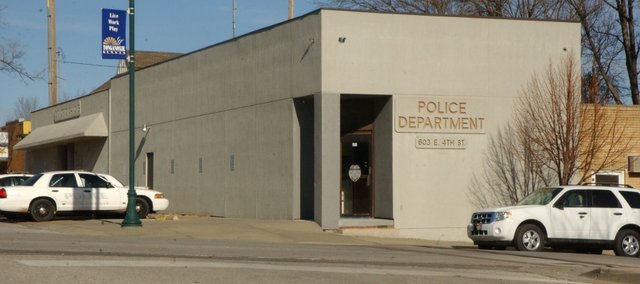 The Tonganoxie City Council will be getting a second opinion before moving forward to demolish the former Tonganoxie police station.
Lisa Scheller, daughter of Dr. Phil Stevens, voiced concerns about demolition of the station, which is just west of her father's office in the 600 block of Fourth Street. Stevens has practiced medicine in the building since the 1950s.
The city's engineer has determined that demolition won't damage Stevens' office or council chambers — just north of the former police station.
But Scheller said the family has asked that it have another structural engineer evaluate the buildings and offer an opinion.
"We just want to make sure that my father's wall is secure," Scheller said. "I trust that we will be able to work something out. That's my hope."
Bonner Springs attorney Joe Perry is representing the Stevens family and has been working with the city on the matter.
City officials initially said the buildings do not share a wall, but it's since been determined that they do.
Scheller said she wanted what's best for both her father and the city.
"He's been a public servant here for a number of years," Scheller said of her father.
Mayor Jason Ward said he appreciated Scheller's comments.
"We share the same concerns," Ward said. "That was one of the first questions we had: 'What would be the impact on the surrounding structures?'"
The council voted 4-1 at its last meeting to tear down the building, with Bill Peak casting the lone dissenting vote.
The decision came in response to discharge of water from the building's sump pump.
Recent cold temperatures caused the discharge pipe from the building's sump pump to freeze. The plug caused water to seep back up into the basement, according to Assistant City Administrator Jennifer Jones-Lacy.
City crews shut off the water, cleared the ice from the pipe and used an additional pump to remove standing water in the basement. They also repaired electrical service to the sump pump and put a dehumidifier in the basement to accelerate drying time.
The water also shorted electrical service to the building's furnace, leaving it beyond repair.
The council looked at replacing the furnace for $7,000 and long-term cleanup of the basement while preparing to sell the building. Members eventually voted to tear down the building, which once served as the city's library.
But that decision will be on hold as the city works with the Stevens family.
Lisa Scheller said her husband, Fred Scheller, had a structural engineer in mind to evaluate the buildings. Fred builds custom homes in the area.
"We'll get somebody soon," Scheller said.