Three
THS

lifters win state titles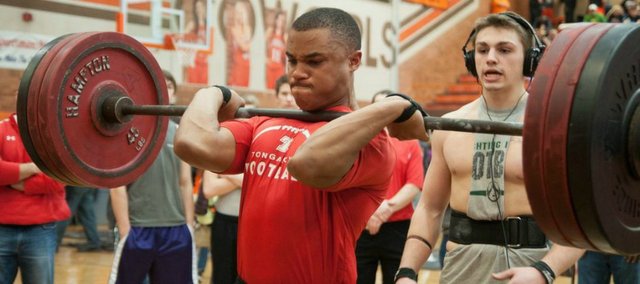 Photos from state
Check out our Facebook page for a photo gallery from the state powerlifting meet, compliments of Melissa Sturgis.
Last weekend, three Tonganoxie High seniors established themselves as the top Class 4A powerlifters in their respective weight classes.
Hunter Sturgis, Noe Puebla and Cole Holloway each won state titles at the state meet in Abilene, helping the Chieftain boys to a fourth-place team finish. Sturgis won the 114-pound weight class, Puebla the 140-pound weight class and Holloway the 165-pound weight class.
Sturgis lifted a combined 535 pounds in the squat, bench press and hang clean. He tied with Hugoton's Salvador Valles, but won the title because he had a slightly higher power rating. It was his first state title.
Puebla, a second-place state finisher last season, won a title with a combined lift of 750 pounds. He had his class' heaviest lifts in the squad (320) and hang clean (250).
Holloway, a returning state champion, clinched his second straight title with a combined lift of 1,005 pounds. He led in class in the squat (425) and bench press (295) and was named a Lifter of the Meet because he had the highest power rating in his class.
Other THS boys to figure into team scoring were Seth Wolf (third at 181 pounds) and Wyatt Weeks (fifth at 198 pounds). The Chieftains finished with 38 team points. The fourth-place team finish is a slight improvement from last year's state meet, in which the they tied for fifth.
The THS girls matched their male counterparts with a fourth-place finish. Megan Zerrer had the team's highest individual finish, coming in third in her weight class. Anahi Puebla and Annie Holton each added fourth-place finishes, Brittany Dussault came in fifth and McKinna Shelton finished sixth. THS finished fourth for the second year in a row.
Basehor-Linwood swept the girls and boys team title with scores of 121 and 74, respectively.
Girls results
Team scores
Basehor-Linwood, 121; 2. Royal Valley, 41; 3. McPherson, 39; 4. Tonganoxie, 17; 5. Clearwater, 11; 6. Larned, 10; T7. De Soto, 9; T7. Pratt, 9; T9. Towanda-Circle, 8; T9. Coffeyville-Field Kindley, 8, T9. Wamego, 8; 12. Abilene, 6; 13. Clay Center, 5; T14. Augusta, 2; T14. Buhler, 2; 16. Eudora, 1.
THS top-six finishers
Megan Zerrer (third), Anahi Puebla (fourth), Annie Holton (fourth), Brittany Dussault (fifth), McKinna Shelton (sixth).
Boys results
Team scores
Basehor-Linwood, 74; T2. Buhler, 40; T2. Clay Center, 40; 4. Tonganoxie, 38; 5. Paola, 27; 6. Chapman, 26; 7. Royal Valley, 22; 8. Clearwater, 20; T9. Eudora, 16; T9. Larned, 16; T9. Pratt, 16; 12. Columbus, 12; 13. Abilene, 11; T14. Hugoton, 10; T14. Piper, 10; T14. Wamego, 10; 17. St. James Academy, 7; 18. Wellington, 3; T19. Coffeyville-Field Kindley, 2; T19. McPherson, 2; 21. Augusta, 1.
THS top-six finishers
Hunter Sturgis (first), Cole Holloway (first), Noe Puebla (first), Seth Wolf (third), Wyatt Weeks (fifth).