Absolutely 'marbleous': Glass art enthusiasts get Marble Crazy sneak peek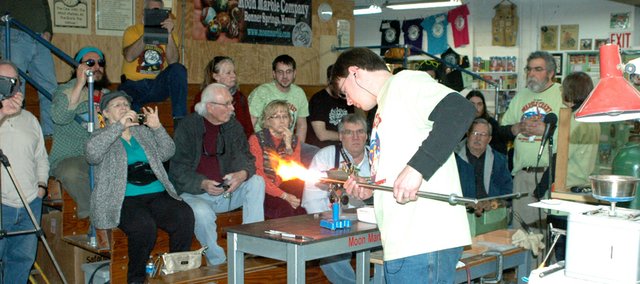 A handful of glass artists and glass art enthusiasts crowded around the workbench at Moon Marble Co. Thursday, watching Cathy Richardson and her son, Colin Richardson, create their unique glass pieces.
Mike and Marge Gaughan of Omaha, Neb. — whose marble collection has now topped about 1,000 pieces — snapped photos with their iPad as the Minnesota-based artists worked to build lilypads, flowers and frogs with glass rods over an open flame.
Marble Crazy
Where: Moon Marble Co., 600 E. Front St., Bonner Springs, 66012
When: Noon to 9 p.m. Friday, with artist demonstrations until 8 p.m., and 10 a.m. to 5 p.m. Saturday, with artist demonstrations until 4 p.m.
Bonus: The Kansas City Marble Collectors Club will host a third day of marble activity 9 a.m. to 3 p.m. March 9 at the Overland Park Holiday Inn.
Admission: Free for both events
For more information: Call 913-441-1432 or visit marblecrazy.com.
"He's had some Cathy Richardson marbles for several years, but we've never been to meet her," Marge said of her husband's collection.
The Gaughans found the Moon Marble Co. in Bonner Springs by accident when they took a wrong turn trying to attend the Kansas City Renaissance Festival.
"We came in and looked around, and we've been hooked ever since," Marge Gaughan said.
Photo Gallery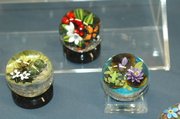 Marble Crazy 2014 featured artist
Featured artist Cathy Richardson and her son, Colin Richardson, gave an invite-only demonstration Thursday and will have their pieces on display for the 14th Annual Marble Crazy Friday and Saturday.
"That's what happens: Once you come, you're hooked," piped in Ron Keller of Hays, Kan., another glass art collector attending Thursday's special event.
And they only hope that will happen once again at this year's Marble Crazy.
"Tomorrow and Saturday, the public will come in at no cost and watch these guys actually make marbles, and some of them will get hooked," Mike Gaughan said.
While demonstrations at Marble Crazy will last only maybe a half hour, today the Richardsons spent a good five hours creating a collaborative piece.
"It's really neat to see how they're doing this," said Keller, who with his wife has been coming to Marble Crazy for the past six years. "I have some of each of their marbles, so it's pretty neat to see them actually making them."
For the Gaughans, who have even made an effort to visit artists they met at Marble Crazy when traveling, Marble Crazy is a great event that allows networking for the artists and promotes the art to the public.
Marge Gaughan said she loves the live demonstrations.
"I think they're wonderful, they give us a contact, a one-on-one, and we get to see the magic they do," she said. "I think Bruce (Breslow, co-owner of Moon Marble) does a marvelous job of promoting the artists, giving them the showcase, introducing them to people, building up their fan clubs."
Bruce Troeh, a marble artist from Independence, Mo., who has been involved in Marble Crazy since its inception, had a special appreciation for the work the Richardsons were doing.
Troeh, who creates stained-glass windows as well as blown glass and jewelry marbles, said it is so time-consuming that it takes an especially patient artist to used their methods.
"Their stuff's fantastic; it's gorgeous," he said. "There's so many really, really good artists here, it's impressive to watch. It's hard not to copy people."