THS

girls eliminated in sub-state opener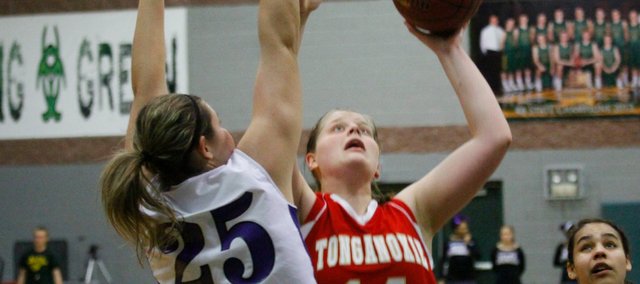 Basehor — In the last few weeks, the Tonganoxie High girls have figured out how to win close games against teams with better records. The Chieftains found themselves in another close one with the Kaw Valley League's best on Thursday, but this time, they came up short.
THS saw its season come to an end with a 63-47 loss to Piper in a Class 4A-1 sub-state semifinal game at Basehor-Linwood. After trailing by 15 midway through the third quarter, the Chieftains (10-11) got to within four in the game's final minutes. However, the Pirates (18-3) closed out the game on a 14-2 run to advance to Saturday's sub-state final against host school BLHS.
PHS took a 38-23 lead with 4:39 left in the third, but THS cut the lead to 10 by the end of the period, 40-30. The Chieftains continued to draw closer in the fourth, and a layup by Sarah Ahart made it 49-45 with 2:35 to go. That's as close as they got, though, as Piper scored the next four points and converted several late turnovers to seal the win.
"They've got a lot of fight in them," coach Randy Kraft said. "I told them we got got outplayed severely in the first half. Piper came out with a lot more intensity, but the second half, I thought, was ours until that last minute."
The Pirates jumped out to a 15-10 lead after one quarter and continued to pull away in the second. They took their first double-digit lead with 52 seconds left until half.
PHS dominated the boards in the first half, scoring several of its points on second-chance opportunities and putting Kraft's squad in an early hole.
"I don't think we had a lack of intensity, but they just had more than we had," Kraft said. "They're so athletic, and when they play as hard as they played in the first half, it just makes it difficult for us to execute things real well."
THS seniors Emily Soetaert and Katelyn Waldeier led the Chieftains with 16 and 15 points, respectively. Tori Webb led Piper with 15 points, while Jessica Wayne and Megan Woolley each added 14.
The game was the final career action for Soetaert, Waldeier and fellow senior Kara Banks, who added four points. Kraft praised all three seniors for their contributions, adding they all played key roles in the Chieftains' 5-1 end to the season.
"They were phenomenal," he said. "In the first half of the season, we just didn't know what we were going to get. About the last third of the season, we knew what we were going to get. They've grown a lot. Those were all role-players on last year's team and it took them a while to get comfortable with a leadership role, but when they did, that's when our season turned around."
Score by quarters
Tonganoxie 10 9 11 17 — 47
Piper 15 16 9 23 — 63
Individual scoring
TONGANOXIE — Emily Soetaert 5-6 6-10 16, Katelyn Waldeier 7-9 1-2 15, Tressa Walker 2-3 0-0 5, Cheyenne Ford 1-1 2-2 4, Kara Banks 1-4 2-2 4, Sarah Ahart 1-2 1-2 3.
PIPER — Tori Webb 6-12 2-4 15, Jessica Wayne 6-12 2-2 14, Megan Woolley 6-11 0-1 14, Haley White 4-10 1-2 10, Carley Zwart 2-2 0-0 4, Lexsi Owens 1-5 2-2 4, Jordan Wagner 1-1 0-0 2.