Four Chieftains earn All-
KVL

basketball nods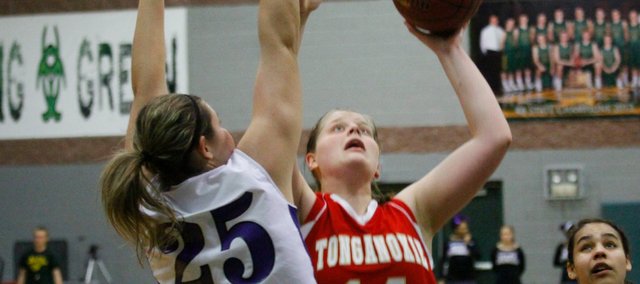 Four Tonganoxie High basketball players have been recognized by coaches of league opponents on the 2013-14 All-Kaw Valley League teams.
Chieftain seniors Katelyn Waldeier and Emily Soetaert each earned first-team nods on the girls team, while senior James Grizzle and sophomore Jack Dale were named to the boys first team. The THS girls went 10-11 this season, and the boys finished with a 9-12 record.
Waldeier, the Chieftains' primary post player, averaged a double-double in her final high school season with 10.9 points and 10.7 rebounds per game. Meanwhile, Soetaert led the team with 11.5 points and 3.8 assists per game. Both seniors started all 21 contests.
Grizzle enjoyed several big offensive outings this season, including a pair of 30-point performances. He started all 21 games, finished second only to Dale with 11.5 points per game and led the team with 5.5 rebounds per game. Dale started all but one contest and scored a team-best 11.9 points per game in his second high school season.
THS did not have any honorable mentions on this year's all-league teams.
All-KVL girls basketball team
First-team selections
Victoria Smith (Basehor-Linwood)
Amber Garver (Basehor-Linwood)
Julianne Jackson (Bonner Springs)
Kaleigh Taylor (Bonner Springs)
Caitlin Reed (Bonner Springs)
Mikayla Zielinski (Lansing)
Carly Eaton (Mill Valley)
Jabria Leggett (Mill Valley)
Megan Woolley (Piper)
Haley White (Piper)
Tori Webb (Piper)
Emily Soetaert (Tonganoxie)
Katelyn Waldeier (Tonganoxie)
Honorable mentions
Madison McDowell (Basehor-Linwood)
Frankie Oropeza (Bishop Ward)
Madison Bosworth (Lansing)
Emily Babcock (Lansing)
Madelyn Moya (Lansing)
Catie Kaifes (Mill Valley)
Jessica Wayne (Piper)
All-KVL boys basketball team
First-team selections
Chase Younger (Basehor-Linwood)
Patrick Muldoon (Basehor-Linwood)
Joe Schneider (Lansing)
Khalil Bailey (Lansing)
Zach Jackson (Lansing)
Joe Lendway (Lansing)
Logan Koch (Mill Valley)
Luke Long (Piper)
Dominique Jennings (Piper)
Vincent Eskina (Piper)
James Grizzle (Tonganoxie)
Jack Dale (Tonganoxie)
Honorable mentions
Zach McNabb (Basehor-Linwood)
JP Downing (Basehor-Linwood)
Evan Brull (Bishop Ward)
Cole Henley (Bishop Ward)
Dontae Gibson (Lansing)
Clayton Holmberg (Mill Valley)
Tyler Owens (Piper)
Paul Berry (Turner)