THS

golfers battle for varsity spots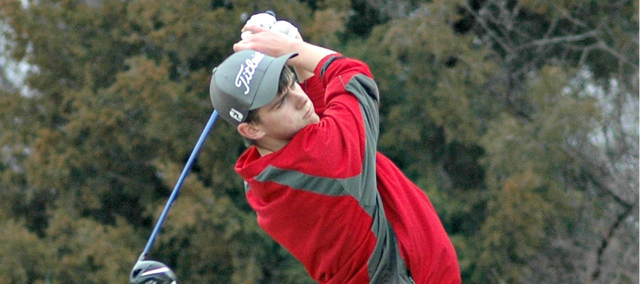 2014 schedule
March 22, at Sunflower Classic
April 9, at Mill Valley Invitational
April 14, at Lansing Invitational
April 21, at Hayden Invitational
April 24, at Spring Hill Invitational
May 1, at Atchison Invitational
May 8, at Junction City Invitational
May 12, at KVL tournament (Lawrence)
May 19, at Regionals (Bonner Springs)
When the Tonganoxie High golf team hits the course this spring, it will do so with an almost entirely different look.
With just eight days left until their 2014 season opener, the Chieftains have begun filling a varsity roster void of five regular starters from last year's team. Senior Drew Sandburg, a three-year state participant, is the only returning golfer who saw more than spot varsity time a year ago.
"It's definitely different going into the season with a lot of unknowns," coach Jared Jackson said. "But, on the other hand, it's a season where you can see a lot of big improvements. You might not know what you have, but you look forward to that daily improvement."
Jackson must replace a pair of state qualifiers in Tyler Hall and Aaron Williams, as well as regular starters Austin Harris, Zack Tallent and Conner Kietzmann.
Sandburg returns after placing seventh individually at last year's state meet. He's put in plenty of work in the offseason, including a full summer slate with the Kansas Junior Golf Association and a pair of tournaments in the fall. He took a break during basketball season, but returned to the links during a trip earlier this month to San Antonio.
With three trips to state already under his belt, Sandburg has the opportunity to join 2012 grad Colby Yates as the only four-time state participant in program history. Williams also went to state four times, but did so at Basehor-Linwood his freshman year.
"I just have to keep playing," Sandburg said. "I feel really confident right now, but I have to get my short game going. I know I can hit the ball with any guy in the state, but the short game is where the winners and losers separate themselves."
Fellow seniors Nathaniel Laundy and Isaac Jones will compete for varsity spots after seeing marginal time in 2013. Others vying for spots are sophomores Gage Hendrix, Heath Martin, Dawson Jones and Ben Lanza and freshman Matt Scharff. Junior Ben Clark was also expected to compete for a position, but was seemingly lost for the season after recently suffering a broken wrist.
Sandburg said his less experienced teammates have already asked for advice regarding strategy on the course, but he expects bigger questions as the start of the season draws closer.
"He's going to bring the experience," Jackson said of Sandburg. "Sometimes, the younger kids aren't going to know until they get out there and do it. What Drew can do is kind of help them process how to make improvements. That's what golf is, and tournament golf is a different animal than just going out and playing with your friends. That's the thing they don't realize yet."
THS will open its campaign March 22 at the Sunflower Classic at Sunflower Hills Golf Course in Bonner Springs. The Chieftains finished second at the tournament last season. In the meantime, golfers will continue to make their cases for spots at the varsity level.