McAferty signs with Fort Scott
CC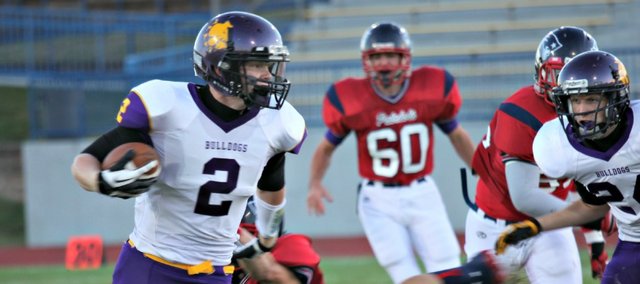 This summer, current McLouth High senior Nick McAferty will represent the Bulldog football team one more time in the Kansas Shrine Bowl. Not long after that, he'll trade in his purple and gold for maroon and gray.
McAferty has signed a national letter of intent to play at Fort Scott Community College. He did so last month in a ceremony in the MHS auditorium.
"It was just something off my shoulders that I didn't have to worry about any more," McAferty said. "I went to a game in Hutch, and one of their coaches came and talked to me. They said they were going to keep in touch, so that's where it really hit off."
A regular starter on offense, defense and special teams, McAferty made his presence felt in all three phases of McLouth's game this past fall. He scored 15 total offensive touchdowns — eight receiving and seven rushing — and helped limit six opposing offenses to a single touchdown or less.
After the season, he received first-team All-Northeast Kansas League honors at receiver and punter and earned a second-team nod at linebacker. The Bulldogs went 7-3 in 2013 and won their second consecutive Class 2-1A district title.
McAferty, who signed as a receiver at FSCC, will join a Greyhound team that went 2-7 last season under coach Curtis Horton. He'll have a former teammate on the sidelines in 2013 MHS grad Marc Walbridge. Walbridge saw marginal time at quarterback last fall.
"(Walbridge) was my quarterback since I was in seventh grade," McAferty said. "The chemistry that we've put together, it would just be amazing if we could do it again for another year."
Before heading to Fort Scott this summer, McAferty will take the field as a high school athlete one more time in the Kansas Shrine Bowl. He'll play for an East squad led by MHS head coach Chris Stewart on July 26 at Pittsburg State University.
"It's real exciting to know (Stewart) is the head coach just because I've been with him my entire high school career," McAferty said. "It'll be nice for me, knowing how he operates, and I can show other people the ropes down there."