THS

wrestlers earn academic recognitions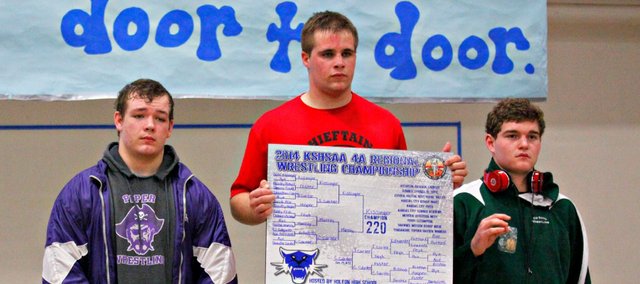 Three Tonganoxie High wrestling seniors recently saw their careers come to a close, but the accolades from their final season keep rolling in.
Clayton Himpel, Joe Wolf and Zeke Kissinger have been named to the Kansas Wrestling Coaches Association's 2014 senior academic team. Wolf and Himpel earned first-team selections, while Kissinger received an honorable mention.
Himpel ended his career with 149 total victories, making him the winningest wrestler in school history. He ended the season with a fourth-place finish at state — his third in four years.
Kissinger also medaled at state, coming in fifth place. His odd-numbered finish was just the second in school history. He joined 2010 grad Jeremy Maus, who also came in fifth.
Wolf battled various injuries for much of his senior season after missing nearly his entire junior campaign with a torn anterior cruciate ligament. He finished the year with an 18-9 record, coming just one win shy of a state bid.
As a team, Tonganoxie earned first-team academic all-state honors. The Chieftains were one of just five Class 4A programs to receive a first-team recognition.