Tonganoxie's own Man of Merit defies stereotypes
THS

grad named to select list at

KU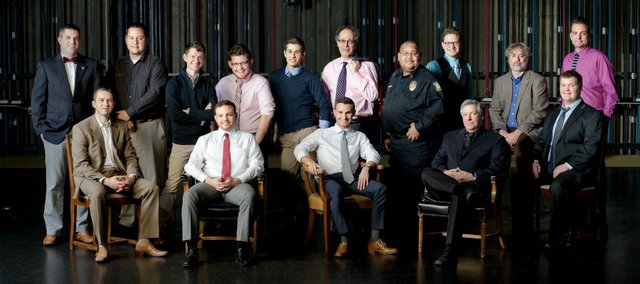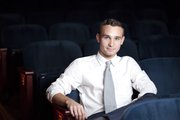 Jenny McKee first met Bret Koch in one of her classes at Kansas University.
It was an 80-student health and human sexuality class.
"It's kind of daunting to get up and speak," McKee said.
But Koch, a 2010 Tonganoxie High School graduate, was engaging, both during and after class.
Koch's eagerness to learn was one of several reasons McKee nominated him to be part of the 2014 KU Men of Merit.
Last week, this year's 15-member group of students, faculty and staff was recognized during a reception. They also are featured on posters available at KU's Student Involvement and Leadership Center.
Former KU football player Gary Green created the poster project six years ago as a way to increase awareness of the importance of education and involvement in men's lives, inspire campus men to take an active role in their college experience and provide role models and mentors for men to be successful.
Koch, a KU junior majoring in community health with a double minor in business and leadership, said he was taken aback by McKee's nomination.
"I was ecstatic to hear that I had been named as a KU Man of Merit," Koch said. "It is a huge honor to be chosen, and I was incredibly thankful to know that someone thought highly enough of me to nominate me for this award."
McKee also works as a health educator in KU's student health services, where Koch volunteers in the center's peer health education group.
During the week, the THS graduate works with preschool children at Googols of Learning. Every other weekend, he assists adults with intellectual disabilities at Cottonwood Inc.
"I don't know a lot of other young men who have to deal with 3-, 4- and 5-year-olds on a daily basis," McKee said.
Koch also works as a student leadership intern and as a wellness coach for Herbalife.
In addition to volunteering in the peer education group, he serves as director of fundraising for KU Dance Marathon, is vice president of the Community Health Outreach Program, National Advisory Board Chair for the Multicultural Scholars Program and is on the Dean's Leadership Team.
In total, that's five organizations and four jobs.
Koch admits that some nights he doesn't get much sleep, but he said he enjoys being busy and building long-lasting relationships.
KU Men of Merit also are recognized for positively defining masculinity through challenging norms, taking action and leading by example while making contributions to KU and the surrounding community.
For Koch, those are important attributes. He said there are constant stereotypes made regarding sexual orientation in today's society.
"For me personally, being an individual who identifies with the Lesbian, Gay, Transgender, Bisexual and Queer community, and being able to achieve an honor such as this, with sexual orientation and gender expression having no affiliation with the reasoning for being selected, is a great feeling," Koch said. "It is the beginning of a progressive movement to eliminate barriers and assumptions based around sexual orientation."
Koch said he was proud to have been selected for the recognition thanks to McKee. He said he views her as a mentor and friend.
"She's helped me tremendously with not only school-related things, but personal issues as well," Koch said.
McKee said she invited her son to the Men of Merit reception so he could see a true male role model in Koch.
She said that when she first met Koch, she had a hunch he would be making a name for himself in "a big way" down the road.
"From the day I met Bret, I knew that," she said. "He always stands up and advocates for those who can't advocate for themselves.
"With every fiber of my being I believe that he is one of those people."