THS

softball ready to build on recent success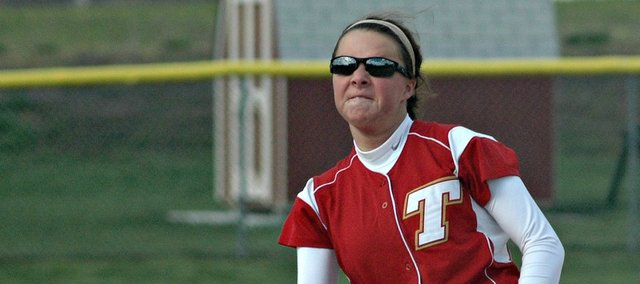 2014 softball schedule
March 27, vs. Bishop Ward
April 3, vs. Basehor-Linwood
April 15, vs. Bonner Springs
April 22, at Lansing
April 24, at Turner
April 29, vs. Piper
May 2, vs. Spring Hill
May 8, at Mill Valley
May 12, at Baldwin
May 13, at Perry-Lecompton
One year ago, the Tonganoxie High softball team put together its first winning season since 2007. With four four-year varsity players on this year's roster — two of them college signees — the 2014 Chieftains have their sights set on even bigger things in the coming months.
THS will look to build on its 11-8 record last season — its first mark above .500 since the 2007 Chieftains went 8-6.
This year's team began the season weeks ahead of last year's practice schedule when it was able to use its outdoor facilities in the first week. Winter weather kept the Chieftains indoors for the early part of the year in 2013, causing several postponements and schedule alterations.
"When in you're in the gym, you only get the feel of the ball hitting off a hard floor," senior Caly Ingle-Maxwell said. "On the dirt, you get anything, really. It's a lot better to get practice out here because balls are getting hit different ways and taking different hops."
Ingle-Maxwell, a Hutchison Community College signee, returns as the teams starting shortstop. Other seniors are catcher and Allen Community College signee Lainy Walker, pitcher Morgan Oroke and outfielder Marissa Martin. Martin will move from left to center field this season.
Second-year coach Stephanie Wittman must replace three 2013 grads in outfielder Savannah Bailey, first baseman Jaycee Knipp and second baseman Shelby McDaniel, as well as pitcher Sammi Bates and outfielder Kaitlin Hall. With several players vying for varsity spots, Wittman has emphasized the importance of competition in the early phases of the season.
"They just need to come to practice every day and compete for a position, whether it be the first three weeks or the last two weeks," Wittman said. "We've told each and every girl that every position is up for grabs every day. I like the mentality our team has right now, knowing no spot is secure. It's given us really competitive practices so far."
Chelby Abney, Bree Cash and Halley Calovich are back after seeing spot time on varsity last season. Abney saw the most time, playing in nine games. Others in the running for starting spots are Taylor Marshall, Haley Knipp, Sierra Graham, Elijah Marshall and Taylor Lee.
With so many young players coming up the ranks, Wittman said she'll rely on her veteran players to help newcomers adjust to the varsity level. Martin echoed those thoughts, adding she and her fellow seniors should be able to use their extended experience to benefit the whole team.
"All four of us were all four years on varsity, so that's really helpful that we've seen the game for that long," Martin said. "We can really pass our experience down to the younger kids."
THS will open its season Thursday at home with a Kaw Valley League doubleheader against Bishop Ward. They'll open with six straight home games, including visits from Basehor-Linwood on April 3 and Bonner Springs on April 15.