Chieftain baseball returns key contributors from 2013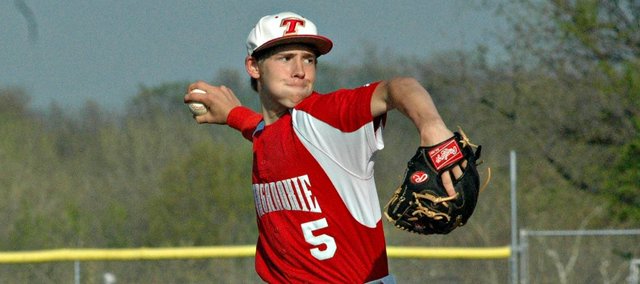 2014 baseball schedule
March 27, vs. Bishop Ward
April 1, at Jeff West
April 3, vs. Basehor-Linwood
April 10, at Lansing
April 15, vs. Bonner Springs
April 24, at Turner
April 29, vs. Piper
May 1-3, at Butch Foster Classic (T-Bones)
May 8, at Mill Valley
May 12, vs. Holton (single game)
Fresh off a third-place finish in the Kaw Valley League — thanks to three wins in their last four league games — the Tonganoxie High baseball team has returned to the field for the upcoming season. With nearly all of last year's contributors back this spring, the Chieftains plan to make much more noise in 2014.
Coach Mitch Loomis' squad returns five regular starters and several other players who saw significant varsity time on last year's 6-11 team. The team has been hard at work since practice opened on March 3, and with the start of the season just one day away, players are making final preparations for what they hope will be an even more successful season.
"Veteran is probably the right word," Loomis said of this year's Chieftains. "We've got one four-year starter and some three-year starters, so they already know the simple stuff. As far as making routine plays, that's not something I'm too concerned about at this point in time."
Seniors Shane Levy and Travis Woods will look to lead the charge after receiving All-KVL nods as juniors. Levy, an outfielder, was the league's only unanimous first-team selection after hitting .496 with 23 runs batted in. Woods, a pitcher, was a second-team selection after going 4-4 on the mound, including a 4-0 mark in league play.
Juniors Connor Wentz-Hall (second base), Colten Weaver (center field) and Brady Swedo (catcher/shortstop) also enter the season with more than one season of varsity experience.
"Since we do have an older team, everybody knows what's expected," Woods said. "We're going to go out and play hard, but we just have to play as a team. We've just got to build team character and play together."
Gone to graduation are corner infielders and 2013 grads Brett Shelton and Cody Saladin, but Loomis said he expects juniors Justin Wagner and Justyn Leslie to fill those vacancies. The Chieftains are also without the services of left fielder James Grizzle, but Ty Hampton is expected to step in. Fellow junior Thomas Minor will serve as a utility player, and sophomore Bill Kelley will vie for time at catcher.
THS didn't hit for much power a year ago — Levy had the team's only two home runs — but with a lineup full of veteran bats and gloves, players expect to find success in other ways in the coming months.
"It's all about repetition," Levy said. "We're going to win games by playing small ball, throwing strikes and basically playing catch out there."
Wagner and sophomore Tyler Novotney will look to join Woods on the pitching staff, and Loomis said he'll likely add a fourth pitcher to the rotation. Wentz-Hall and Swedo each saw time on the mound last season.
THS will welcome Bishop Ward to town Thursday for a doubleheader. The twin bill will begin at 4 p.m. at the Leavenworth County Fairgrounds.