Face to Face: Tonganoxie
USD

464 board president Kris Grinter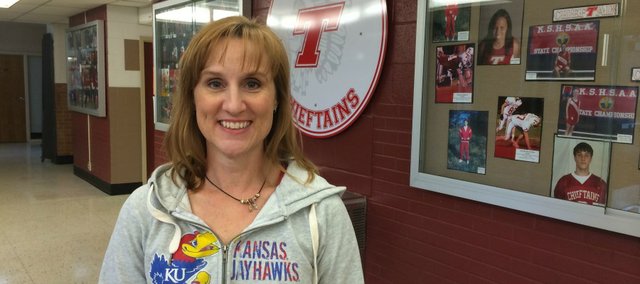 Name: Kris Grinter
Born: St. Joseph, Mo.
Family: Married to husband, Ted, for 23 years. They have two daugthers: Sidney, 19, and Callie, 17.
Occupation: Grinter serves as Tonganoxie USD 464 board president. She's also bookkeeper for Grinter Farms.
Dream job as a child: Pediatric doctor.
Digging deeper: Instead of pediatrics, Grinter pursued a degree in illustration from Kansas University. She notes that she bleeds crimson and blue (KU) and her husband purple (K-State). Before pursuing a degree in art, she actually majored in accounting, but decided to switch to art. Grinter joked that it's interesting she switched majors from accounting and now does bookkeeping for the family farm.
Grinter is a self-proclaimed serial hobbyist. Her interests range from marathon readings of 1,000-page books to doing just about any type of art or craft. She said she tools leather, sews, draws, paints, makes jewelry, knits and makes soap.
"I'm constantly making something, but my favorite thing to do is portrait drawing," Grinter said. "I'd happily be a domestic goddess if it weren't for cleaning and laundry."
Grinter is well into her fifth year on the school board.
"That's part of what keeps me busy," Grinter said.
Amid all her activities, she admits that a Pilates class helps her stay sane.
She said she also likes to sing along (very loudly) to music in the car — even with her daughters and their friends as passengers.
"This also helps me keep my sanity, but probably makes them a little crazy," Grinter said.
When she happens to have spare time, Grinter works on her blog, krisgrinter.blogspot.com, "as a way to document farm life, partly because I believe family farms are going extinct," she said.