Local Daughters of the American Revolution chapter is not only digging up history, they're making it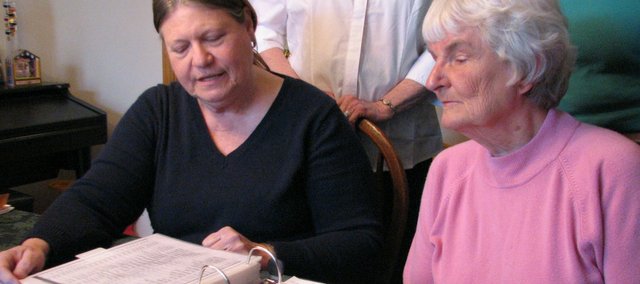 Basehor — You never know what the "Digging Divas" will turn up.
For Judy Ward of Tonganoxie, it was that her great-great-great-greatgrandfather was accused of stealing $30 and was dishonorably discharged from the Union army during the Civil War. Ward is among the many women to join one of the newest chapters of the Daughters of the American Revolution. The Ephraim Basehor Chapter of the DAR was established in April 2012 and was the first new DAR chapter in the state in 16 years.
Ward did research of her own to try to find her direct lineage to another grandfather who fought in the American Revolution when she joined the Ephraim Basehor Chapter two years ago. She is still hunting for proof to connect her to the grandfather she knows of, but she is now a member of the DAR because of the connection unearthed by the genealogists and researchers the local chapter affectionately calls the "Digging Divas."
"It's the hunt that's exciting," Ward said. "In some respects, you're kind of a trailblazer for everyone after you."
It was her four-times grandfather, Linzay Seacreas, who she learned through newspaper clippings had been dishonorably discharged from the Union Army that directly linked her to another family member in the Revolutionary War. Seacreas had found $30 in an outhouse and kept it for himself, only to later be accused of stealing it.
"When you get to digging, you never know what you'll find," Ward said.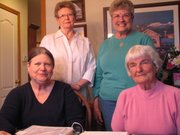 The Ephraim Basehor Chapter of the DAR, consisting of 25 members from Basehor, Bonner Springs and Tonganoxie, is starting its second year full year as a chapter. In 2013, 3,906 women joined DAR chapters across the country, making it the biggest year for new membership in the 123-year history of the organization. Kansas now has 60 of its own chapters.
Karen Meredith, the chapter's organizing regent, said the area communities of Basehor, Bonner Springs, Tonganoxie and even Kansas City, Kan., were missing their own local DAR chapter. Meredith, along with the 12 other charter members of the Ephraim Basehor Chapter, were all members of the Leavenworth DAR chapter.
So, in 2012, Meredith organized 16 members to begin the Ephraim Basehor Chapter. By the end of the chapter's first full year in 2013, the chapter had grown to 27 members. Meredith said they have three "junior" members who are under the age of 40, including one woman who is a college student.
The chapter has since hosted genealogy workshops and other events to recruit more members, specifically more young members.
"This is such a close group," Meredith said. "We like to have fun, and we like making a difference in the community."
In order to be a DAR, a woman must prove, through documentation, that she is directly related to someone who fought in the American Revolution. That long family line can seem daunting to new members, Meredith said, but the process of finding those direct connections is what makes the process fun.
"You never know where you're going to end up," Meredith said. "Everyone has a story to tell."
Jean Pinick of Basehor is the chapter's registrar and has been studying genealogy for most of her life. She said women can attend the chapter's monthly meetings in Tonganoxie without being DAR members. According to the organization's website, women can take a year or even more to research their family's history to find the direct links to their ancestors, whether those be newspaper clippings or historical documents.
"Someone can have this one person in their mind that they think will be their link, but I had never even heard of the person I was trying to prove my lineage to," Pinick said. "We will help everyone, we will find the sources."
Pinick is a "Digging Diva." She and fellow DAR member Connie Putthoff often go on headstone searches to locate graves of Kansans that may have been lost to time. Putthoff saves the images of the headstones they find in the many fields they have searched in the Tonganoxie Library, and Pinick saves them to a national database.
Sitting across the table from each other recently, Pinick and Putthoff laughed about their adventures, including one where they both almost fell into an old well left uncovered on a property.
"'We better watch out for wells,' I said," Putthoff recalled. "Then all of a sudden there was this huge well right in front of us."
Along with digging up genealogical records, the Ephraim Basehor Chapter has been hard at work volunteering in the community in its first year as a chapter.
Meredith said the Ephraim Basehor Chapter's member logged almost 1,200 hours of community service in 2013. Nationally, members of the DAR logged more than 2 million hours, Meredith said.
Locally, the chapter has done a lot of work with local Veteran's Affairs offices and VFWs. The chapter has donated school supplies to students at Haskell University in Lawrence as well as other Native American universities across the country.
They have volunteered at naturalization ceremonies in Kansas City, Kan., to serve food and drinks to new citizens. The chapter has also applied for a Historic Preservation Grant for the Basehor library building originally built by Ephraim Basehor. The small cement structure currently stands on private property, but the Ephraim Basehor Chapter wants to preserve the building that served as the city's first library.
With the growth of both the local chapter and the national DAR organization, Meredith and the local members hope even more people will join. They also hope that more youth become interested in the program. Once a teenager turns 18, they are eligible to join DAR.
"I wish I had paid more attention as a teenager growing up when I was sitting at the table with my grandparents and family," Ward said. "When you can hear stories firsthand and relate, there's just so much more interest."
For more information about the Ephraim Basehor Chapter, contact registrar Pinick at pirera@aol.com or Meredith at 913-845-2037.
"The stories are out there," Pinick said, "but you have to dig."