Tonganoxie High student explores space at Alabama academy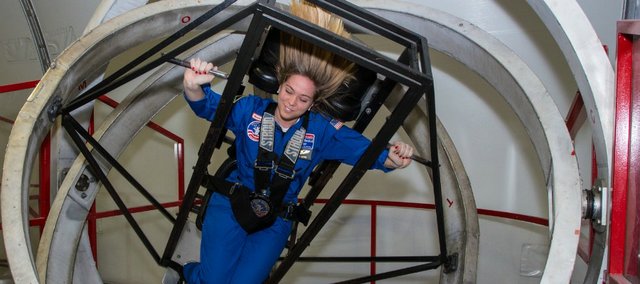 Monica Maurer spent a week helping to safely land Air Force One, fixing a NASA satellite and riding something called the Multi-Axis Trainer.
Maurer, a Tonganoxie High School sophomore, attended the Honeywell Leadership Challenge Academy from March 1-7 in Huntsville, Ala.
She was one of about 300 students from 33 states and 38 countries to attend the academy, which is open to children of Honeywell employees. Maurer's father works for the company. She submitted an application and two essays before being accepted into this year's class.
"We had our missions and engineering challenges and team building … we were really busy," Maurer said.
The THS sophomore said one challenge involved considerable communication. It proved difficult initially because of some language and culture barriers at the international space camp. But the group eventually moved full speed ahead, she said. Several international students were from China and South Korea, while others were from Europe and Latin America, Maurer said.
In a crisis mission, Maurer helped master a simulated rescue plan to save people aboard Air Force One and then safely land the aircraft.
Maurer said the challenges could definitely be, well, challenging.
For one exercise, Maurer had to repair a satellite while communicating with mission control.
"That was stressful at some points," she said.
The sophomore followed in her brother's footsteps at the space camp. Older sibling Wyatt attended the camp last year as a THS senior.
Though Maurer isn't planning for a career in aviation, she did say one aviation mission "was actually very awesome."
"It made me want to be a pilot a little bit," she said.
Currently, Maurer is eyeing a degree in biomedical engineering. She plans to attend medical school after that.
For her undergrad work, Maurer has Duke University atop her list. She's already committed to the Blue Devils in athletics. She said she was "so stressed" keeping tabs on Duke in the NCAA Tournament. To Maurer's chagrin, the Mercer Bears upset the Blue Devils in the first round.
Mauer said the leadership camp wasn't all about aeronautics. It also provided exercises in engineering and math.
That was the camp's aim, according to Tom Buckmaster, president of Honeywell Hometown Solutions.
"Our goal is to continue to develop a new generation of leaders, engineers and scientists who can address the challenges of tomorrow," Buckmaster said in a press release. "Honeywell Leadership Challenge Academy is a holistic program that uses a variety of teaching methods to open students' minds to the many possibilities for rewarding careers."
Maurer said the academy proved to be a great experience that allowed her some astronaut training in the process.
That includes the Multi-Axis Trainer, which simulates the disorientation one would feel in a tumble spin during reentry into Earth's atmosphere. The MAT is patterned after the Multiple-Axis Spin/Spae Test Inertia Facility, which is a series of cages within cages used for astronaut training during the Mercury program.
"It was really weird," Maurer said. "While watching it, you think you'll get sick. But it didn't make me sick at all."