Chieftain softball starts hot vs. Ward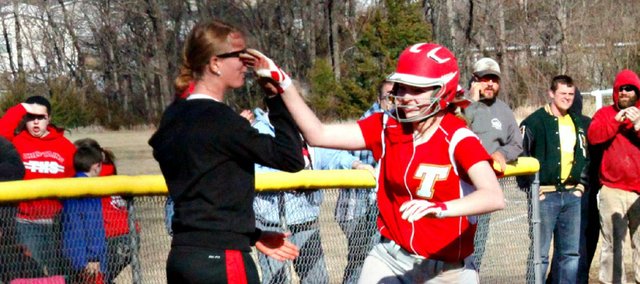 If the Tonganoxie High softball team plans to build on its recent success this season, it got off on the right foot in its season opener.
The Chieftains exploded for 32 runs in a sweep of Kaw Valley League opponent Bishop Ward on Thursday. They needed just eight total innings to win both ends of the doubleheader, 15-2 and 17-0.
After retiring the Cyclones in the first inning of the opener, THS came out swinging — literally and figuratively — in the bottom of the frame. It reeled off five runs to take a lead it would never relinquish, ultimately setting the tone for its high-scoring night. Caly Ingle-Maxwell, Taylor Lee and Bree Cash each doubled in the five-hit inning. Ward got one run back in the second, but THS scored two runs each in the second and third to make it 8-1.
The Cyclones scored once more in the fourth, but coach Stephanie Wittman's squad provided the knockout blow with a six-run surge in the home half of the inning. Chelby Abney drove in Cash on a groundout to second, Ingle-Maxwell hit a two-run single and Lee capped off scoring with a three-run home run. Lee's shot — the Chieftains' first out-of-the-park homer since 2012 — benefitted from a strong wind, barely clearing the center field fence.
"When it took off the bat, I thought it maybe had a chance," Wittman said. "Luckily, we had the wind at our back. She's got a great swing, and there's reason why she's higher up in the lineup."
Lee and Ingle-Maxwell led the team with four and three RBIs, respectively. Oroke went the distance in the pitcher's circle. She gave up just three hits while striking out seven and walking two.
The slugfest carried over to the second game, which the Chieftains needed just three innings to secure. They opened with four consecutive walks and went on to score six in the first inning. Selective hitting continued to pay off in the second, when they scored 11 more, and that's all the offense they needed.
Despite playing just three innings in the nightcap, THS drew eight walks. They also drew 12 in the first game.
"We made sure to stress to the girls that Bishop Ward had some young pitchers," Wittman said. "We told them a walk is as good as a hit because the next person behind you is hopefully going to put you in a position to score. It was good to see the patience up there and have them execute as we wanted them to."
Oroke and Lainy Walker each had multi-hit games. Lee threw three scoreless innings in her pitching debut, giving up three hits, striking out three and walking none.
The Chieftains will continue their current homestand Thursday with a doubleheader against KVL rival Basehor-Linwood. The Chieftains and Bobcats split two games last season.
Game 1
BWHS 010 10 — 2
THS 522 6X — 15
Leading hitters: Marissa Martin 1-2, 3 R; Sierra Graham 1-1, 3 R; Caly Ingle-Maxwell 2-3, 2B, 2 R, 3 RBI; Taylor Lee 2-3, 2B, HR, R, 4 RBI; Morgan Oroke 1-1, R, RBI.
Game 2
BWHS 000 — 0
THS 6(11)X — 17
Leading hitters: Lainy Walker 2-2, 3 R; Morgan Oroke 2-2, 2 R; Halley Calovich 1-2, 3B.