Chameleon King: Bonner Springs resident has unique hobby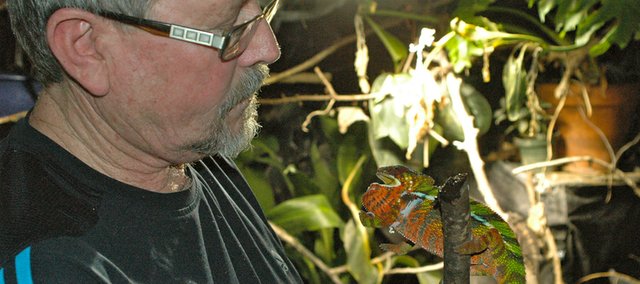 Ted Kasckow peers into the cage, trying to point out each of his three newest purchases.
"That's the fun part about chameleons — trying to find them," he notes.
The three baby Fischer's Chameleons are only a couple of inches long right now, but when they are a full-grown at 9 to 11 inches long, they will be larger than any of the other 70 or so chameleons Kasckow has in his Lake of the Forest home. The reptiles have taken over two rooms in the home, as Kasckow raises and breeds them in what he calls an effort to reduce the number of animals being taken from the wild.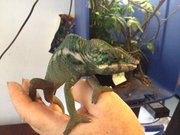 "The concept of this is to raise chameleons apart from the wild, to produce enough so that there's enough for the pet trade and to take the pressure off the wild populations," he said.
Kasckow had raised chameleons in the past few years, focusing on panther chameleons from Madagascar. So why become Bonner's own Chameleon King?
"They are the most fascinating critters; they never fail to amaze me," he says.
This is not his first foray into a form of zoology. Though he comes from a family of musicians, Kasckow has always liked raising things, both animals and plants. In college, he studied fisheries and then went into aquaculture. For 25 years, he had his own fish farm in California.
He and his wife moved to Kansas in 2005 because her family is from the area, and as Kasckow notes, there are no fish farms here, so he was forced into semi-retirement. In addition to some part-time masonry and contracting business, he decided to get into raising something again.
He turned to chameleons, having had some while he was in college.
"Chameleons are just very interesting, and there's a little bit of a market for them," he said. "They're not cuddly, petting animals, but they're real gentle. Some people say they're hard to raise, but if you just give them what they want, they are fine."
He discovered that panther chameleons fetch a fair price, so he could make some money off his hobby, and their population is also under threat in Madagascar, so he could also carry on some practices from aquaculture.
"Fish farms in California have raised certain species to restock the population, taking pressure off wild populations," he explained.
So he created a "jungle room" in his basement, where one male Ambilobe panther chameleon and up to four females roam among several plants.
Nine or so cages of chameleons also took over his music room, where he has Ambanja and Nosy Be panther chameleons.
Both rooms are kept about 80 to 85 degrees with the help of space heaters and heat lamps.
He regularly attends reptile shows to sell his chameleons, so the number he has in his home fluctuates, but he says he currently has about 70 — though it should probably be noted that the vast majority are babies and are only about an inch or two long. But two adult females recently laid eggs, with another about to. They lay 30 to 40 eggs at a time, so he guesses he has about 100 eggs. The eggs need to incubate for at least eight months before hatching.
Kasckow said chameleon breeding is popular in Europe, particularly Germany, and the chameleon forum he belongs to keeps track of genetic lines so there is no inbreeding.
While his hobby has increased his knowledge of Madagascar — he said he'd like to go there one day — Kasckow is unsure how much longer he will continue.
"It's kind of a bucket list thing in that way, and there's a lot more in that bucket," he said.