Woods shines as Chieftains win Butch Foster opener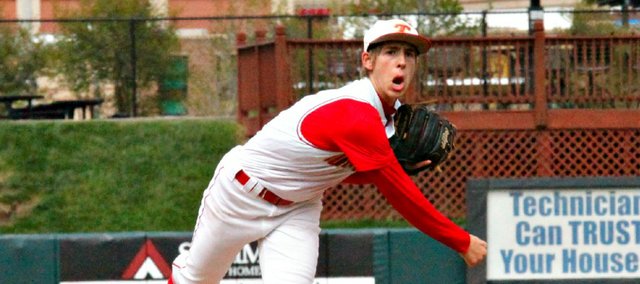 Kansas City, Kan. — In six previous trips to the Butch Foster Memorial Classic, the Tonganoxie High baseball team had never won in the tournament's open round. But, senior Travis Woods made sure his final go-around would include a stop in the semifinals.
Woods allowed just four hits — all of them singles — in a complete-game shutout and came up with a two-run single in the sixth inning, powering the Chieftains to a 3-0 win against Spring Hill on Thursday at CommunityAmerica Ballpark.
THS (9-4) struggled mightily against Bronco starter Dalton Young in the early innings, but took advantage of a string of SHHS mishaps in the sixth. Billy Kelley and Colten Weaver reached on back-to-back defensive errors, then Tyler Novotney was hit by a pitch, loading the bases for Woods with one out.
Woods, who entered the game with a team-high .394 batting average, roped the first pitch he saw into right center, scoring courtesy runner Jordan Brown and Weaver.
"I knew when I came up, I was in a big spot," Woods said. "I had to get something done and I got it done."
Woods was later thrown out trying to steal second, but Novotney scored on the throw to make it 3-0. The Broncos went down without a fight in the top of the seventh, as Woods retired the side in order, capping off the win with his sixth strikeout.
The shutout was Woods' second of the season and his first since his perfect game against Bonner Springs on April 15. He was at his best late in the game Thursday, allowing just one hit in the final three innings. He has gone the distance four times this season, including each of his last three starts.
"We talked to (Woods) about being in big games," said coach Mitch Loomis, whose Chieftains had perviously gone 0-6 in Butch Foster openers since the tournament's inception in 2008. "Even as good as he's been, he's going to have to elevate his game for the caliber of team that Spring Hill is, and he rose to the challenge. That's what seniors are supposed to do in big spots."
With the win, the Chieftains — currently ranked No. 8 in Class 4A-I — advance to the semifinals, where they'll face another Frontier League opponent in third-ranked Paola at 7:30 p.m. Friday. The Panthers won their opener against tournament host Bonner Springs, 9-2.
"If we just keep plugging away with our pitching, make sure our defense is nice and sound and hit the ball, we should be good," Woods said.
Tonganoxie 3, Spring Hill 0
SHHS 000 000 0 — 0
THS 000 003 X — 3