Chieftains fall in Butch Foster semis, will play
BLHS

for third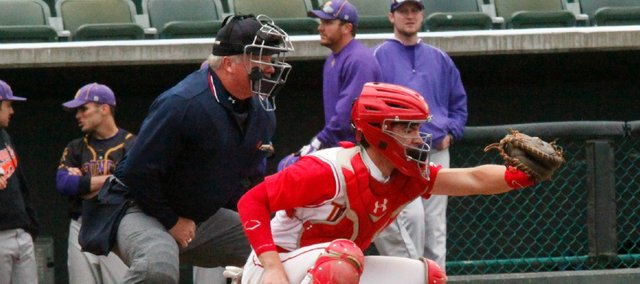 Butch Foster Memorial Classic
Thursday's scores
Paola 9, BSHS 2
Tonganoxie 3, Spring Hill 0
Perry 11, Holton 1
BLHS 8, Baldwin 2
Friday's scores
Baldwin 19, Holton 2
Perry 6, BLHS 0
BSHS 8, Spring Hill 6
Paola 5, Tonganoxie 0
Saturday's games
BSHS vs. Baldwin, Noon
Spring Hill vs. Holton, 2:30 p.m.
Tonganoxie vs. BLHS, 5 p.m.
Paola vs. Perry, 7:30 p.m.
Kansas City, Kan. — From the very first pitch on Friday, No. 8 Tonganoxie couldn't figure out Paola starter Trey Taylor. However, according to coach Mitch Loomis, questions today could lead to answers down the road.
Loomis' Chieftains never got going against Taylor, dropping a 5-0 decision to the third-ranked Panthers in Butch Foster Memorial Classic semifinal action at CommunityAmerica Ballpark. Taylor kept the Chieftains (9-5) guessing all game, limiting them to three singles in a complete-game shutout.
"He's the best arm we've seen this year," Loomis said of Taylor. "That's exactly why we play in this tournament. When the postseason rolls around, we're going to have to beat pitchers like that. I thought we competed well against him. We didn't give up anywhere, so that'll get us ready for the next time it happens."
Taylor worked around back-to-back hits by Travis Woods and Shane Levy in the first, then retired THS in order in each of the next two innings. THS starter Justin Wagner went toe-to-toe with Taylor early, keeping Paola hitless through the first three, but hit a snag in the fourth. Blain Ohlmeier scored on a wild pitch, Ben Rodriguez scored on an infield single by Seth Slayman, then Nick Sloan tripled home Slayman for a 3-0 Paola lead.
The only other THS hit came on a fifth-inning single by Colten Weaver. The Chieftains got one more scoring chance in the sixth when Woods reached on an error and Levy walked, but Taylor worked his way out of the jam to keep the shutout intact. The Panthers tacked on two more runs in the bottom of the inning for the final margin of victory. Chase Jorgenson came home on a fielding error by first baseman Ty Hampton, then Sloan drove in Slayman with a double to left field.
Despite taking the loss, Wagner gave up just five hits in six innings of work. He struck out seven and walked none.
"We got everything we could have wanted from (Wagner) and more," Loomis said. "He kept us in the game against legitimately one of the best teams in the state of Kansas. That's an all-state kid they threw, and Justin went pitch-for-pitch with him all night."
The Chieftains will have an opportunity to finish with a winning tournament record when they take on Kaw Valley League rival Basehor-Linwood in the third-place game at 5 p.m. Saturday. The Bobcats defeated Baldwin in their opening-round game, but fell to Perry-Lecompton in Friday's other semifinal, 6-0. Tonganoxie is 2-0 this season against the BLHS — a potential regional opponent. It won a 3-2 decision April 4 at home, then cruised to an 18-5 victory Saturday in Basehor.
"We'll just continue to do what we do," Loomis said. "We've played two good games this tournament, but you come in here hoping to go 2-1. I think that's just the old adage of any tournament. If we do what we've been doing, I think we'll be all right."
Paola 5, Tonganoxie 0
THS 000 000 0 — 0
PHS 000 302 X — 5