Idea pitched for Tonganoxie curbside recycling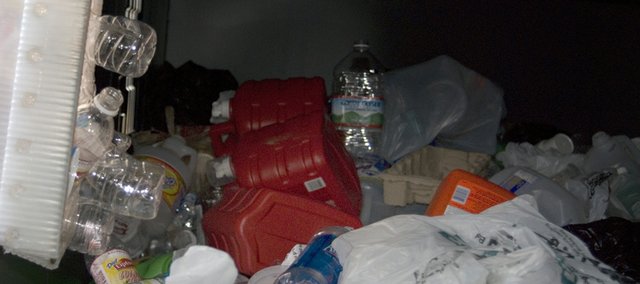 Curbside recycling could be coming to Tonganoxie.
Randy Weldon with Honey Creek Disposal spoke to the City Council on Monday about recycling options.
The city's current contract with Honey Creek is $12.75 per house. The city charges $15 for trash services.
Weldon said citywide curbside recycling would cost $2.25 for each residence. If the city wanted to do voluntary recycling in which residents could request curbside recycling case-by-case, the cost would be $4 per residence.
Weldon said the current company-issued all-blue trash bins have a 95-gallon capacity. The recycling bins are 65 gallons and have yellow bins with photos and instructions screen printed on of what can and can't be recycled.
Honey Creek would be able to accept most recyclables with curbside recycling — plastic, aluminum, tin, cardboard and even glass.
Recycling pick-up would be every other week. If a family's recycling load for the two-week period doesn't fit in the recycling bins, additional boxes can be filled with recyclables next to the bin.
Council member Jim Truesdell's initial reaction to curbside recycling was favorable.
"Sounds great to me," he said.
Mayor Jason Ward agreed.
"I think it's a great opportunity for our community," he said.
The city's current contract with Honey Creek doesn't include curbside recycling, but residents can drop off plastics, cardboard and aluminum cans in its bins along U.S. Highway 24-40.
The council didn't take a vote on whether to add additional recycling services, but will revisit the topic at future meetings.
Mural and a park?
Though some final work needs to be done on the site of the former police station, Tonganoxie City Council members continued to discuss possibilities for the space's future.
The building at Fourth and Delaware came down last month, leaving the council with its next decision — what to do with the open space.
Keyta Kelly, who shares a law office downtown with her husband and City Attorney Mike Kelly, said she'd like to see green space in that area. She said she envisioned a little park area where employees of downtown businesses could go for lunch breaks if they wanted.
"It would enhance downtown," she said.
She also favored murals, including one on the west side of Dr. Phil Stevens' office.
"Get Dr. Stevens involved," she said. "If that could be painted into a mural, commemorate him or the town. I think that would be absolutely fabulous."
Stevens has practiced medicine in that office since the 1950s.
The council currently doesn't have money budgeted for any future plans at the corner.
However, Bill Peak, who also is a member of the Retail and Commercial Development Committee, said money in the RCDC's budget possibly could go toward creating a park.
Rachel Kelly, who also works at the law office with her parents, echoed her mother's ideas.
She also would like to see a fountain in the middle of a park on the site.