THS

soccer erupts vs. Washington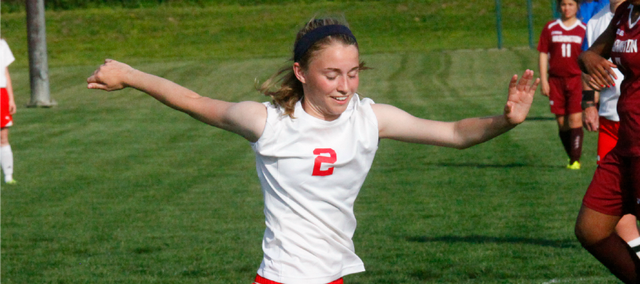 THS 8, Washington 0
First half scoring
Aly Bartholomew (TON), 34:45
Emily Hummelgaard (TON), 14:49
Taylar Morgan (TON), 4:31
Aly Bartholomew (TON), 3:36
Second half scoring
Emily Hummelgaard (TON), 38:34
Emily Soetaert (TON), 34:40
Joanna Filbert (TON), 7:22
Abby Pray (TON), 1:27
Kansas City, Kan. — Before Kansas City-Washington paid a visit Monday, Chieftain Park hadn't been friendly to the Tonganoxie High soccer team. THS had managed just one goal in its last three home contests, but got back on track in a big way against the Wildcats.
Six THS players scored in an 8-0 shutout as coach Justin Seever's squad drew within one win of a .500 record.
"I'm hoping this gets our confidence back and gets us back in the flow of things," said coach Justin Seever, whose Chieftains are 5-2 in their last seven games.
After coming up empty on several scoring opportunities, THS (6-7-1) broke through when Aly Bartholomew crossed a defender and found the back of the net with 34:45 left in the first half. The Chieftains had several other near-misses, firing shots off the post or right into the hands of the goalkeeper, but Emily Hummelgaard finally broke through to make it 2-0 with 14:49 remaining.
Taylar Morgan and Bartholomew each scored in the final minutes of the period, giving THS a 4-0 advantage at the break.
The momentum carried over into the second half, as Hummelgaard scored again off a pass from Mackenzie Price just 1:26 after halftime. Emily Soetaert got in on the scoring less than four minutes later, finding the net after a free kick by Madison Simmons.
THS dominated possession for the remainder of the half, but didn't score again until a goal by Joanna Filbert with 7:22 to go. Abby Pray capped off the shutout victory with a goal off a pass from Nicole Tallent with just 1:27 left.
The eight-goal output marks the Chieftains' second-highest scoring performance of the season, second only to a 10-0 win April 15 against Bishop Ward. THS will hit the road Thursday for its final non-league contest of the year at Ottawa. It will wrap up the regular season May 13 at home against rival Basehor-Linwood.
"We've got to put two good sessions in before Thursday," Seever said. "We need to get over .500. We've been knocking on the door the last two weeks, so hopefully, if we can take these next two games and play the way we're capable, we'll get a couple good results.
"We're trying to get firing on as close to all cylinders as possible. That's what's happened the last couple years to get us a decent (regional) seed. The north is pretty stacked, so we need to get as favorable a draw as we can handle."
The Chieftains didn't face the Cyclones last season, but defeated the Bobcats in their only meeting at BLHS, 6-2.