Tonganoxie walking bridge placement a success; ribbon cutting set for May 30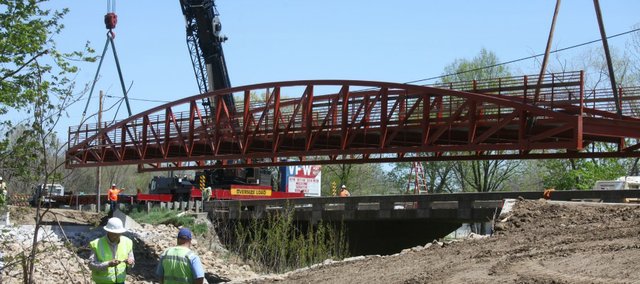 Ribbon cutting
Tonganoxie City Council will have a ribbon cutting at 6 p.m. May 30 to celebrate the opening of Chieftain Trail expansion. The ceremony will take place near Magnatech Park on First Street, which is west of the new walking bridge.
An important 130-foot piece of the Chieftain Trail extension carefully was put in place Friday in Tonganoxie.
The walking bridge for the trail, which connects the existing 1.2 miles of trail to another 1.3 miles, took much of Friday to install.
The bridge arrived in two pieces on separate semi truck beds. At Monday's City Council meeting, City Administrator Nathan McCommon said putting the two pieces together was time consuming.
"A large part of job was bolting this dude together," McCommon said.
Cranes had to be situated and anchored on County Road 5 bridge so that they could suspend the walking bridge over the existing bridge.
Slowly but surely, the walking bridge moved up and over a utility line roughly 20 feet off the ground and into place north of the existing vehicle bridge.
Jon Carlson with BG Consultants, the city's engineering firm, said officials discussed taking down the utility line, but crews determined bringing the bridge over the line would work just as well.
Carlson has been in bridgework for about 30 years. He said every structure is a little different. The longest bridge he was part of installing measured 1,200 feet.
"As a whole bridge, this is unique," Carlson said. "I've never done one like that before."
After some dismal weather earlier last week, Friday's construction day couldn't have come at a better time.
"No wind, nice, bright, sunny and dry and everything pretty much went as planned," Carlson said.
Some concrete work still remained around the bridge, Carlson said Monday, but crews are putting final touches on the trail. Weather permitting, it should be finished in the next two weeks, McCommon said.
Mayor Jason Ward said residents are talking up the walking bridge.
"I've received a lot of positive feedback on the bridge," Ward said. "I know the council has spent some time on color selection."
Ward jokingly was referring to the shade of red the council chose for the bridge. The council had a lengthy discussion about a color before finally settling on the red.
A Kansas Department of Transportation grant known as a transportation enhancement grant is covering 80 percent of the more than $1.2 million project, or about $974,000. The city is responsible for the remaining $234,500.