THS

softball to host Piper tonight in home finale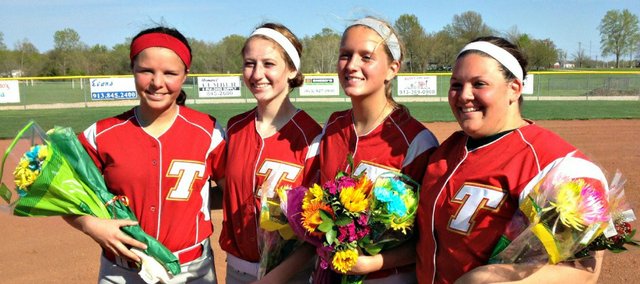 The Tonganoxie High softball team wasn't able to find a win on senior night, but the Chieftains have two more chances to leave their home field with a victory.
THS will welcome Kaw Valley League opponent Piper to town at 4 p.m. today for a makeup doubleheader. The Pirates were originally scheduled to visit on April 29, but the games were moved because of inclement weather.
The Chieftains (4-8 4-6 KVL) struggled in their last home outing, dropping two games to Frontier League school Spring Hill on Friday, 17-1 and 8-2. They managed just three hits in the first game, then couldn't overcome an early defect in the nightcap. Taylor Lee hit an RBI double in the first game, then had a two-run home run in the second.
Seniors Caly Ingle-Maxwell, Morgan Oroke, Lainy Walker and Marissa Martin — all four-year varsity players — were recognized in a ceremony between games. Ingle-Maxwell, Oroke and Walker will all play college softball next year, while Martin will play volleyball.
"The seniors have obviously been the cornerstone of this program for the last four years," coach Stephanie Wittman said. "We'll definitely miss their leadership and their softball skills, and their knowledge of the game is going to be hard to replace next year."
Piper enters today's twin bill at 8-6, including a 7-5 mark in KVL play. The Pirates swept the Chieftains last season, 2-0 and 13-5.
THS won't have much of a break before its next league action, as it will travel Thursday to Class 5A Mill Valley. The Jaguars will be playing for a share of the KVL title, as they are currently tied with Basehor-Linwood with a 10-2 league record.
Wittman's squad will close out the regular season with a pair of non-league doubleheaders on the road. It will travel Monday to Baldwin, then head to Perry-Lecompton one day later.
"We've been trying to tell (our players) to be competitive despite the win or loss at the end," Wittman said. "We talked about regionals and how it takes just two games. It could just take one good inning for any team to make it to the next round. I think it's important to keep in mind that we're playing competition, so hopefully it'll help us out later on."