Martin, Soetaert sign with college programs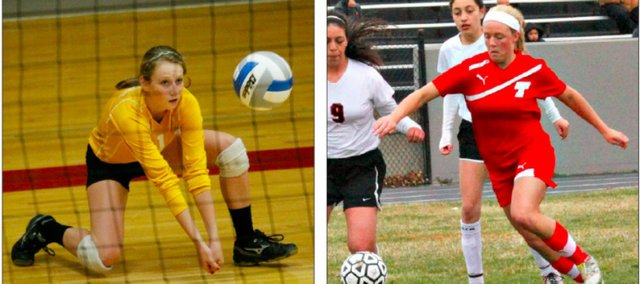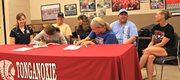 Perhaps it's fitting that Marissa Martin and Emily Soetaert signed national letters of intent in a joint ceremony earlier this week. Coaches and administrators alike spent plenty of time praising the senior duo for focusing on their respective teams throughout their Tonganoxie High careers, rather than themselves.
Martin and Soetaert got their individual time in the spotlight Wednesday when they solidified their post-high school plans in the THS Chieftain Room. Martin signed to play volleyball at the University of Saint Mary in Leavenworth, while Soetaert signed with the Kansas City Kansas Community College soccer team.
"We pay attention to wins and losses and individual stats, but these two are good for teams," THS athletics director Brandon Parker said. "KCK and Saint Mary just got better because these two are coming to their colleges. I can't say enough good things about Emily and Marissa. What they do for others, I hope younger players see and pick up. It's truly more important than the actual game itself."
Martin became the Chieftains' starting libero as a junior and quickly emerged as one of the Kaw Valley League's top back-line players. She led the team in digs each of the last two seasons, earning a pair of All-KVL selections along the way. She was an honorable mention as a junior, then earned a first-team selection after her senior season, in which THS went 13-24.
Martin, who also plays softball and was a member of the THS cheerleading squad, will join a Spire volleyball squad that went 11-26 last fall. Her freshman season will be the first under newly hired coach Matt Sonnichsen.
"This is what I've wanted to do for a long time," said Martin, who will also cheer at USM. "It's really good to make it official. I had Brandon Parker make me a highlight video and I sent it out to a lot of schools that offer a pre-pharmacy program. They were one of two or three that responded, and that's always been where I wanted to go."
Soetaert has established herself as one of the state's best while leading the Chieftain soccer team to unprecedented levels of success. In the last two seasons, she led THS to back-to-back regional titles, a fourth-place finish at state and the first winning season in team history. She's a two-time All-KVL, All-Region and All-State selection, including a first-team All-State nod as a junior.
Following a recommendation from THS coach Justin Seever, Soetaert signed with KCKCC after she and teammate Madison Simmons met with coach Ruben Rodriguez earlier this spring. The Blue Devils went 3-14-2 under Rodriguez last fall.
"I had been looking at going to Johnson County, then Seever brought up KCK," she said. "(Rodriguez) came and watched us play at Lansing and talked to me and Madison afterwards. It feels awesome."
Soetaert, who also played basketball for four years, will also graduate as the soccer program's all-time leading scorer. She has eight goals and six assists this season, in which THS is currently 7-7-1. The Chieftains can solidify a winning regular-season record with a senior-night victory Tuesday against rival Basehor-Linwood.