Face to Face: Kansas Department of Wildlife, Parks and Tourism's Justin Hamilton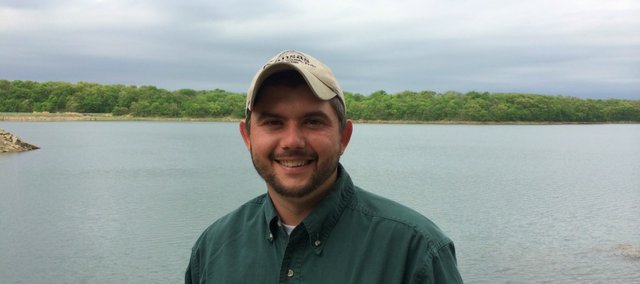 Name: Justin Hamilton
Born: Kirksville, Mo. Hamilton moved to Kansas in 2007. He's lived in the Tonganoxie area since 2012.
Family: Wife, Kelsy Hamilton, works as an administrative assistant for Kansas University's marketing communications department. Daughter, Rylan is 3, and son, Everett, is 11 months old.
Occupation: Public lands manager for the Kansas Department of Wildlife, Parks and Tourism. Hamilton manages three state fishing lakes and four wildlife areas in northeast Kansas, including the Leavenworth County State Fishing Lake.
Dream job as a child: Wildlife biologist. Hamilton spent career day in fifth grade with a wildlife biologist and was hooked.
"I feel lucky to have known at an early age what I wanted to do for a career and to be able to achieve that goal," he said.
Digging deeper: Hamilton graduated from Kirksville High School in 2003. He earned a bachelor's degree in wildlife ecology and conservation management from Northwest Missouri State University and a master's degree in biology with an emphasis in wildlife management from Fort Hays State University. His thesis work focused on the effects of prescribed burning on vegetation, insects and grassland nesting birds on conservation reserve program areas in western Kansas. As an undergraduate student, he held several seasonal positions with entities such as the Missouri Department of Conservation, University of Missouri-Columbia, and the U.S Fish and Wildlife Service. As a graduate student, he spent time working at the Sternberg Museum of Natural History (Hays), the Kansas Wetland Education Center and as a biology teaching assistant.
Hamilton grew up hunting and fishing with family and friends.
"I think that is important for people to get outside and have a connection to the outdoors," he said. "I enjoy introducing new people to different outdoor activities and teaching them about the importance of conserving our natural resources."