Sandburg wins
KVL

golf title
Chieftains 5th at league tournament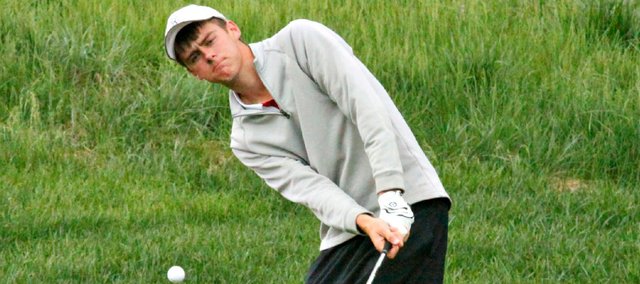 Tourney photos
A photo gallery from Monday's KVL tournament is available on The Mirror's Facebook page.
Lawrence — Add "Kaw Valley League championship" to Drew Sandburg's already long list of accomplishments on the golf course.
Despite dealing with heavy rain and low temperatures throughout the day, Sandburg battled his way to his first KVL title Monday, finishing with a score of 73 at Eagle Bend Golf Course. The Tonganoxie High senior beat out Bonner Springs' Marc McClain by three strokes in the final league tournament of his career.
"It feels good. I'm just glad I could grind through the bad weather," Sandburg said. "I had to switch gloves a couple times because it was so wet and I couldn't use a towel at all, so it was just a grind out there."
Just four days after carding a career-best 70 in Junction City, Sandburg found himself in the lead Monday with a one-over par score of 37 after nine holes. Birdies on 11 and 16 left him at one under with two holes remaining, but he bogeyed the final two to finish at one over. McClain wasn't able to make up any ground on the back nine, though, as Sandburg secured his second tournament win of the season.
As a team, the Chieftains finished fifth in the eight-team field with a score of 369. Nathaniel Laundy finished second behind Sandburg with a 92. He was followed by Isaac Jones (100), Matt Scharff (104), Ben Lanza (104) and Heath Martin (117).
"The goal was to compete, and I think they did a good job of seeing where their heads were as they went through tough conditions," coach Jared Jackson said. "I was happy with the way they battled. We're making improvements, I think, but our score didn't show it (Monday) with the conditions."
Class 5A Mill Valley won the team title with a score of 319, holding off second-place Piper by 13 strokes. The Jaguars had three top-five individual finishers. Only six schools recorded team scores, as Turner and Bishop Ward didn't field full teams.
The Chieftains will have a week off before they host a Class 4A regional tournament Monday at Sunflower Hills Golf Course in Bonner Springs. The tournament field is comprised of THS, Atchison, Basehor-Linwood, Bonner Springs, De Soto, Bishop Ward, Piper, Perry-Lecompton, Bishop Miege and Spring Hill. The top two teams will qualify for the 4A state tournament, set for May 27 in Mayetta. The top five individual finishers not on qualifying teams will also earn state bids.
Jackson, who led THS to state runner-up finishes in 2011 and 2012, said Piper is the clear favorite in this year's regional field, but didn't rule out anyone for the second team spot.
"Second place is pretty open," he said. "I'd say Bonner Springs is the favorite, but we've been close with them. We've got to have a good week at practice and be prepared mentally. Hopefully, the things we talk about will be put into play at they'll play to their potential. That's all we can ask."
Sandburg has played in each of the last three state tournaments. He could become the program's second four-time state qualifier if he makes the cut next week, joining 2012 grad Colby Yates. No other current varsity golfer has state experience.
Overall team results
Mill Valley, 319; 2. Piper, 332; 3. Lansing, 342; 4. Bonner Springs, 349; 5. Tonganoxie, 369; 6. Basehor-Linwood, 387.
Top 10 individual results
Drew Sandburg (TON), 73; 2. Marc McClain (BON), 76; 3. Jalen Oehlert (MV), 77; 4. Nathan Brinker (MV), 79; 5. Jack Casburn (MV), 80; 6. Lance Hodges (LAN), 80; 7. Luke Russell (LAN), 80; 8. Eric Pahls (PIP), 81; 9. Blaine Smith (PIP), 82; 10. Ryan Potter (BL), 82.