Tonganoxie
USD

464 lunch prices to go up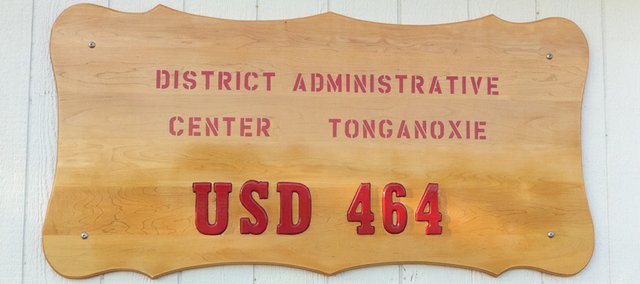 Lunch prices will be going up in Tonganoxie USD 464 lunchrooms for the 2014-15 school year.
The school board approved 7-0 the price hike at Monday's board meeting at the Tonganoxie Middle School commons area.
Lunch will go up 10 cents across the board — $2.30 at the elementary school, $2.55 at the middle school and $2.65 at the high school — for 2014-15.
Superintendent Randy Weseman said he dislikes increasing fees, but said it was needed.
"If we don't raise prices, we have to pull money from the general fund," Weseman said.
He also noted that the district's food service department was in the black.
Board promotes assistant principal
Ty Poehl will be the next principal at Tonganoxie Elementary School.
The board approved contracts for several faculty and staff, including Poehl, who replaces longtime principal Tammie George. Poehl had been assistant principal at TES. George announced earlier this year she was retiring as principal. The board now will search for someone to fill Poehl's previous position.
Republishing needed
The board will be republishing its budget.
Weseman said the district estimated incorrectly the expenditures for Kansas Public Employee Retirement System, coming in about $19,000 short.
"I've never had to do this before," Weseman said, noting about a third of the state's districts underestimated in their number crunching.
He said law changes for KPERS withholdings contributed to the situation. The new budget will be published twice in The Mirror with a budget hearing to follow. The new budget shows an increase of about $19,000.
Weseman said the measure wouldn't translate to additional taxes for district property owners.
Energy agreement
A maintenance agreement with Trane will save the district more than $119,000, Weseman told the board.
Trane provides the district with energy efficiency services.
Board member asks for contract clarification
Weseman will be working with lawyers to review wording in an agreement for the newly formed special education cooperative between Tonganoxie and Basehor-Linwood schools.
Board member Dan Hopkins asked about wording that might indicate Basehor-Linwood could make hiring decisions for joint employees.
Weseman said that wasn't the intent, but that it was important to review terminology.
"In practice I'm not worried about it," Weseman said.