Chieftain soccer blanks
BLHS

on senior night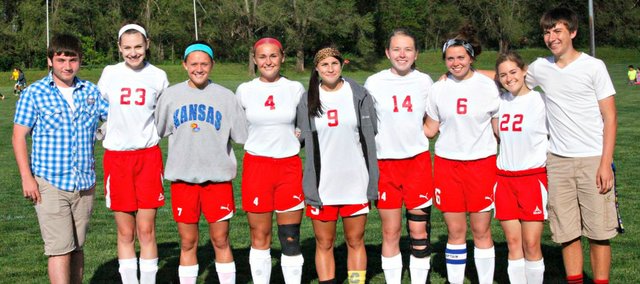 THS 7, BLHS 0
First half scoring
Emily Soetaert (TON), 28:29
Mackenzie Price (TON), 16:20
Madison Simmons (TON), 10:35
Second half scoring
Emily Soetaert (TON), 37:09
Mackenzie Price (TON), 32:26
Madison Simmons (TON), 22:34
Rachel Schuck (TON), 14:41
The Tonganoxie High girls soccer team could very well play on its home field again before season's end. But, with the regular season now in the books, the class of 2014 has one more memory to add to its already successful run.
THS wrapped up the regular season Tuesday with a 7-0 shutout of rival Basehor-Linwood at Chieftain Park. Four players scored in the win, which put the Chieftains (8-7-1) back over .500 for the first time since they started the season 1-0.
"It's definitely good for confidence," said coach Justin Seever, whose squad has outscored its last three opponents by a 22-0 margin. "I told the girls we're peaking at the right time for sure. The thing I like about these three wins is we've got three shutouts. That's kind of big for us, so we pride ourselves on that."
The Chieftains opened up a 3-0 lead in the first half, then eliminated any thoughts of a comeback by the Bobcats (3-10) early in the second. Emily Soetaert scored her second goal of the game just 2:51 into the period, making it 4-0 and keeping the momentum on the home side of the field.
"That definitely deflated us for sure," BLHS coach Erik Jones said. "When we went into halftime, even though the result was 3-0, we still felt like we were working hard and did a lot of good things. But, when we got scored on in the first five minutes, our heads were down.
"Give Tongie credit. They just kept going at us. We've got to come out better in the second half with a better effort."
Tonganoxie scored again less than five minutes later when Mackenzie Price headed a pass from Madison Simmons past Bobcat keeper Brianne Kennedy, then Simmons scored off a pass from Soetaert midway through the half.
Rachel Schuck capped off scoring with 14:41 to go. Kennedy came out to block a shot attempt by Morgan Galvin, but the ball bounced right to a wide open Schuck, who fired it into the empty net.
BLHS kept the Chieftains off the scoreboard in the first half until Soetaert broke free down the left side of the field after an inbounds throw by Taylar Morgan. She crossed over Kennedy and tapped the ball in, breaking a scoreless tie with 28:29 to go. Price scored on a shot from near the right sideline with 16:10 to go and Simmons made it 3-0 with 10:35 left.
Seniors Soetaert, Simmons, Morgan, Aly Bartholomew, Alissa Donnelly, Annabelle Frese and Katie Ebbert, as well as managers Tyler Wehmeyer and Brett Bolon, were recognized in a ceremony before the start of the varsity game. The 2014 class, which Seever had as freshmen in his first season as head coach, has played a role in the program's first-ever winning season, two regional championships and an appearance in the 2012 state semifinals.
"I give these seniors a lot of crap, pretty much day in and day out, but it's going to be a little weird without them next year," Seever said. "It's pretty bittersweet that it's coming to an end."
The Chieftains will now await their regional seed, which they'll learn Saturday. Depending on seeding, THS could play at home in the first round on Monday or Tuesday.
"(Wednesday) is going to be a little bit easier day, then Thursday, we're just going to focus solely on us and our attack," Seever said. "We'll just work on doing what we're doing because, honestly, if we keep playing our game, we'll be all right."
More like this story