Tonganoxie: From classrooms to campaigns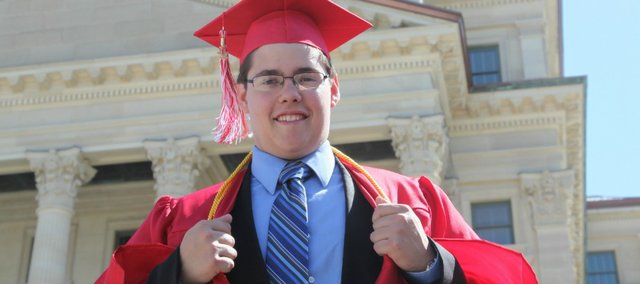 Austin Harris remembers a call to an elderly woman on the campaign trail.
He gave the standard spiel — his name and the district he's representing for the upcoming election.
"'Well, my cookies are about to come back out of the oven,'" Harris said, recalling the woman's response.
Harris, who has set his sights on the statehouse. has received a wide variety of answers to his campaign calls, but so far has been pleased with the interactions he's had with voters. He still has a lot more campaigning ahead, but his schedule opens up considerably after Saturday.
That's when he'll graduate from Tonganoxie High School.
The 18-year-old filed about a month ago to run for state representative as a Democrat in Kansas' 42nd District. From a young age, Harris has been interested in politics and has aspired to be a legislator.
He just wasn't quite expecting to make a run while still in high school.
Harris decided earlier this school year to enroll at Washburn University in Topeka. His plans to run for office came after deciding to attend college in the state capital.
He hasn't decided on a major, but plans to eventually apply for law school at WU.
"Washburn is just the perfect fit," Harris said.
He hopes the statehouse will be, too.
The THS senior describes himself as a "very moderate" Democrat who thinks good ideas come from both sides of the aisle.
"I don't close my ears when debate happens," Harris said. "You have to take all that weight into consideration."
Harris joins Harold Fevurly Jr., a rural Leavenworth Democrat, and incumbent Connie O'Brien, a rural Tonganoxie Republican, as District 42 candidates to file so far.
Harris said the lack of funding for public education is one of his biggest concerns in this campaign race, as is growing business.
Rocking the vote
Harris' campaign hasn't just been a chance to get out and hear voters' concerns — it's also has caught the eyes of his peers.
He's helped educate classmates about voter registration and how the process works. That enthusiasm has encouraged Harris, no matter what party affiliation or preferred voter.
"They know it's their decision," Harris said. "I never want to pressure them from the beginning to do that."
Harris is himself no stranger to the statehouse. He served as a page for representatives from across the state his freshman and sophomore years in high school. The Tonganoxie resident also interned last summer with the Kansas Department on Aging.
Harris has received an invite to the Youth Civic Leadership Institute at the Robert J. Dole Institute of Politics, which he had to decline because of a scheduling conflict with the Future Business Leaders of America national competition.
While at THS, Harris also has been active in jazz band and other ensembles. He's performed with fellow jazz band mates for engagements around Tonganoxie and was part of a THS concert band that earned two consecutive 1 ratings at state.
And his extracurricular activity list doesn't stop there.
Harris helped the debate team to a state title and the Science Olympiad squad to a second-place finish at state, the highest finish in program history.
Most recently, Harris was a double state forensics champion in extemporaneous and informative speech. THS finished second overall as a team.
Too young?
If elected, Harris would start his term at the ripe old age of 19.
Mike McClellan teaches world history, current events and western civilization at THS. He also teaches American government and politics, as well as a class on terrorism and weapons of mass destruction at Kansas City Kansas Community College.
McClellan said those who think Harris is too young to run for office don't realize his capabilities.
"He's like a 40-year-old in an 18-year-old's body," McClellan said.
The longtime teacher said Harris is mature for his age and is a "solid intellectual talent" who is open-minded to other points of view.
"I think he has what it takes, there's no doubt about it," McClellan said. "Age doesn't necessarily signify wisdom."
Harris likened him attending college to seasoned legislators juggling their jobs back home with their Capitol responsibilities.
He said that if elected, he would plan for lighter semester workloads when the Legislature is in session.
Harris said he was thankful to grow up through the Tonganoxie public school and have influences from many teachers. Deborah Holloway and Kathy Harrell were instrumental in shaping his love for politics and civic involvement at the middle school level, Harris said. In high school, he especially appreciated the efforts of McClellan and Steve Harrell, who coached him in debate and forensics.
No matter what happens with the election, Harris is ready for life's next chapter at Washburn.
And maybe the statehouse.
"You're never too young to care," Harris said.