Griffin breaks school,
KVL

high jump records
Four Chieftains win league titles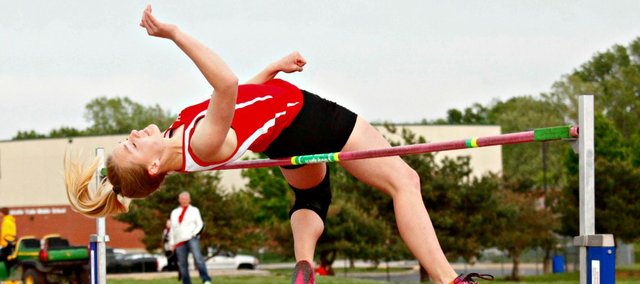 Meet results
Complete results from Wednesday's Kaw Valley League meet are available here.
Shawnee — Haley Griffin has enjoyed a storied high jumping career at Tonganoxie High, to say the least. In the last six days, the Chieftain senior's legacy has reached new heights, both literally and figuratively.
Griffin, who will jump at Wichita State University next year, broke her own school record and set a new Kaw Valley League meet record Wednesday at Mill Valley, winning her second straight league title with a jump of 5 feet, 8 inches.
The only jumper to clear 5 feet, Griffin quickly cleared heights of 5-2 and 5-5 while jumping unopposed. She missed her first two attempts at 5-8, but cleared the bar on her final try, breaking her own school record of 5-7, which she set Friday at the Piper Invitational. The jump, which currently ranks No. 1 in the state, also broke the KVL meet record of 5-6 set by Piper's Jessica Rehm in 1996.
Griffin had the THS girls' only event title Wednesday, but the Chieftains recorded five other top-five finishes. Tressa Walker came in fourth in the 800-meter run, crossing the finish line in 2:33.15. Megan Zerrer also finished in the pole vault (7-6), while the 4x400 and 4x800-meter relay teams came in fourth in their respective races. Sophia Wetta rounded out the team's list of top-five finishers, coming in fifth in the 3,200-meter run (13:20.42).
As a team, the THS girls finished fifth with 38 points. Host school Mill Valley won the team title with 198.5 points, easily beating out runner-up Basehor-Linwood by 81 points.
A trio of Chieftain boys brought home league titles. Ben Johnson captured gold in the triple jump (43-2.5), Devan Smith edged out Johnson in the high jump (6-0) and Evan Stilgenbauer won the 3,200 (10:23.66). Johnson also had runner-up finishes in the high jump (6-0) and 110-meter hurdles (15.69).
Cody Snyder, who broke the school's shot put record Friday, took third in the event Wednesday (48-1.75). Meanwhile, Levi Koch finished fourth in the javelin (140-7) and Dalton Trimble fifth in the 300-meter hurdles (42.7). The 4x100-meter relay team had the only other top-five finish, coming in fifth (45.43).
The THS boys earned a fourth-place finish with 67 points. Mill Valley won the team title with 195 points — 66 better than second-place Piper.
The Chieftains will be back in action May 23 when they travel to Basehor-Linwood for a Class 4A regional tournament. The field is comprised of THS, Atchison, Baldwin, BLHS, Bonner Springs, De Soto, Eudora, Bishop Ward, Piper, Sumner Academy, Jeff West, Perry-Lecompton, Santa Fe Trail, Bishop Miege, Spring Hill and Hayden. The top four finishers in each event will advance to the state meet, set for May 30-31 in Wichita.
Girls team results
Mill Valley, 198.5; 2. Basehor-Linwood, 117.5; 3. Lansing, 110; 4. Piper, 84; 5. Tonganoxie, 38; 6. Bonner Springs, 31; 7. Bishop Ward, 13; 8. Turner, 6.
Boys team results
Mill Valley, 195; 2. Piper, 129; 3. Bonner Springs, 87; 4. Tonganoxie, 67; 5. Lansing, 56; 7. Turner, 36; 8. Bishop Ward, 6.5.