THS

baseball seniors eye final shot at state bid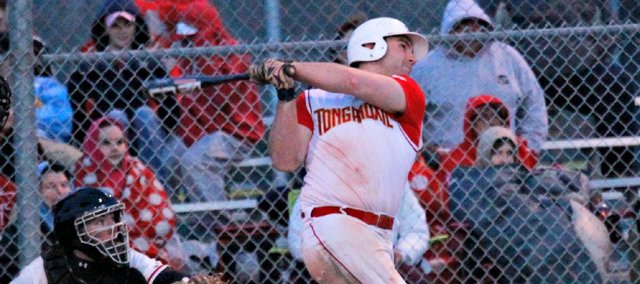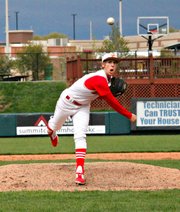 The Tonganoxie High baseball team began the 2014 season with state aspirations, but for two particular players, the potential road to Salina began well before they laced up their cleats in early March.
Seniors Shane Levy and Travis Woods have made significant contributions to the program over the past four seasons, but have seen the last three end with heartbreaking regional losses to higher-seeded teams. But, in the inaugural year of the four-team, Class 4A-I format, the Chieftains are in uncharted territory. They will finish with a winning record for the first time in five years, are the top seed in their regional and will have the chance to punch their state ticket on their home field.
No. 1 THS (12-7) will open at about 4 p.m. Monday against fourth-seeded Piper (5-13) at the Leavenworth County Fairgrounds.
"I've been here for four years and I've seen a lot go down in regionals, but to make it to state with this group of guys would be great, especially with the mental toughness we have this year," said Levy, a four-year starter and two-time All-Kaw Valley League first-team selection as an outfielder. "Our approach to everything this year is completely different. We're going to make it happen."
Last season, THS saw its bid for state end with a 6-4 loss to fourth-seeded Hayden in Topeka. The year before, the Chieftains led a late lead slip away against No. 2 Piper in Kansas City, Kan. In 2011, they reached the semifinals before falling to rival Basehor-Linwood in nine innings. Levy and Woods remember the losses all too well, as does coach Mitch Loomis. However, with one of the most veteran teams in Loomis' tenure, the Chieftains are set on turning their past letdowns into future success.
The way Loomis sees it, it all begins with the seniors, who have the opportunity to reverse three years of misfortune in a single day.
"They've both been with me my whole tenure here as head coach," Loomis said. "One thing I've always been huge on is being able to handle failure because this game is all about your mentality. I know we can field ground balls and things like that, but it's more important to understand what to do when we don't and how to respond from that. Those guys know, beyond a shadow of a doubt, what do to and what to expect."
Atchison and Basehor-Linwood round out the regional field. THS went 5-0 against its regional field during the regular season with three wins against BLHS and two against Piper. An 8-7 win Tuesday at PHS locked up a second-place finish in the KVL. The Chieftains haven't seen Atchison this season.
Atchison and BLHS will open regional play at 2 p.m. Monday, then Tonganoxie and Piper will immediately follow. The winners will advance to the championship game, which is tentatively set for 6 p.m. This year's 4A-I state tournament will take place May 29-30 at Dean Evans Stadium in Salina.
"Everybody on this team wants to go to state," said Woods, who has emerged as one of the KVL's top starting pitchers this spring. "We've got the path to get there, so we've just got to make it happen. We've just go out there and show everybody what we've been doing the past three or four years and where we're trying to go."
The Chieftains have one more opportunity to shore up any weaknesses when they host Big Seven opponent Holton for senior night at 5 p.m. Friday. The Wildcats joined THS in the Butch Foster Memorial Classic earlier this month, but the teams never met in tournament play. Woods and Levy will be recognized in a ceremony before the game.
"It's going to be a pretty special moment," Levy said. "If you have something to work on, you've basically got to do it now before regionals. Everything needs to be 100 percent in practice and on the field. Absolute, 100-percent focus every single day."