Tonganoxie High forensics team takes 2nd at state again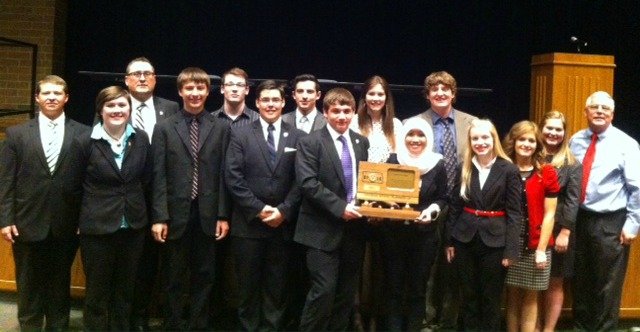 The Tonganoxie High School forensics team continues to be one of the top squads in the state.
THS placed second in Class 4A in the state speech and drama championships earlier this month in Topeka. It marked the fourth year in a row THS finished as runner-up.
Tonganoxie finished behind state champion Sumner Academy and just ahead of Kaw Valley League foe Piper this year. Sumner has won the last three 4A state titles.
THS had four state medalists at the 4A meet, which took place at Washburn Rural High School.
Junior Lauren Harrell placed first in humorous solo, while senior Jacob Cassleman finished second in poetry interpretation. Senior Halston Field nabbed third in poetry interpretation and fifth in prose interpretation.
Senior Austin Harris had the best showing. He finished first in extemporaneous speaking and first in informative speaking.
Other team members at the state meet were Rodger Black, Brett Bolon, Jackson Bartlett, Tyler Wehmeyer, Celeste Bartels, Indah Zatadini, Johnathan Irwin, Kate Ebbert and Emma DeMaranville.
Joining Sumner as state team champions were Manhattan (6A), Shawnee Heights (5A), Norton (3A), Sterling (2A) and Jetmore (1A).