Chieftain softball falls to
BLHS

in regional opener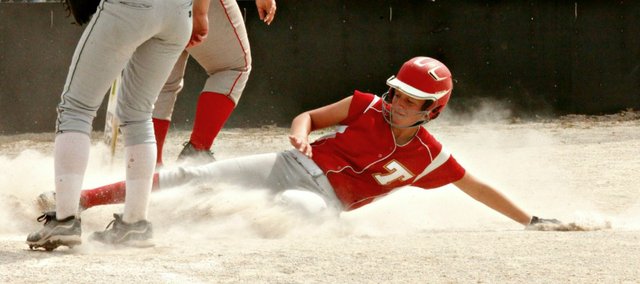 Basehor — Entering Monday's regional semifinal against a rival team it lost two twice last month, the Tonganoxie High softball team knew it had nothing to lose. That mentality didn't translate into a win, but coach Stephanie Wittman was far from disappointed with the end result.
The Chieftains stayed within striking distance for most of the game, but couldn't overcome four Bobcat home runs in a 12-4 loss at the Basehor Field of Dreams complex.
"I was happy that we gave Basehor a seven-inning game," said Wittman, whose THS squad gave up a combined 28 runs in back-to-back losses to BLHS on April 8. "For the most part, our bats showed up today. We couldn't have asked more from our seniors, and everybody else just came in relaxed and loose. We had no pressure on us."
The Chieftains (5-14) grabbed an early lead when Marissa Martin singled and scored in the first, but the Bobcats got it back when Kayleigh Schoenfelder led off the bottom of the inning with a solo homer. The Bobcats (17-5) tacked on four more runs in the inning for a lead they wouldn't relinquish. THS struck again in the second when Sierra Graham scored after reaching on a fielder's choice, but the Bobcats made it 9-2 with a four-run inning, including a three-run shot by Katie Lackner that drilled the scoreboard in center field.
Wittman's squad didn't go down without a fight, plating two more in the third. Oroke singled and scored on a double by fellow senior Caly Ingle-Maxwell, then Ingle-Maxwell scored on a wild pitch. That's all the offense THS could muster, though, as it managed just three hits in the final four innings.
BLHS got the two runs back in the fourth with solo homers by Lackner and Jenna Donnelly, then added one more in the sixth for the final margin of victory. The Bobcats later fell to Piper in the regional championship game, 9-4.
Oroke suffered the loss, but went all six innings. She gave up 12 hits, walked five and struck out three in her final high school start.
"We know Basehor's bats are going to show up every game," Wittman said. "We understood that coming into it, but Oroke pitched as well as she could. Take away four home runs with a couple girls on base, and we're right in that game. You've got to catch a really good team on a really bad day, and we didn't do that (Monday)."
Oroke also led THS at the plate, going 3-for-4. Martin and Ingle-Maxwell also had multi-hit games.
The loss marks the final career games for four-year varsity players Oroke, Martin, Ingle-Maxwell and Lainy Walker. Wittman praised the seniors for their contributions to the program and took a moment to look ahead to the 2015 campaign. The Chieftains will return several regular starters, most of which gained their first full year of varsity experience this spring.
"We've got a lot of growing to do in the offseason, but it's good to know they're willing to come and compete every day in practice and in games," she said.
BLHS 12, Tonganoxie 4
THS 112 000 0 — 4
BLHS 540 201 X — 12