Face to Face: Volunteer Center coordinator Earleta Morey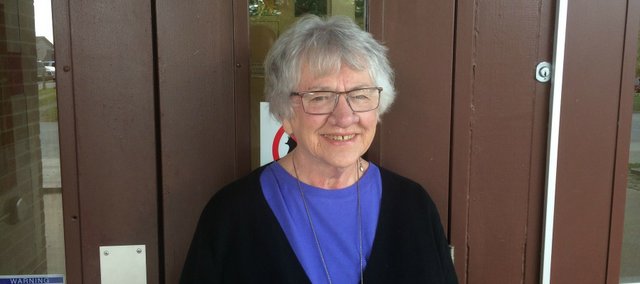 Name: Earleta Morey
Born. Los Angeles, Calif.
Family: Husband, Jim; sons, Burt, Tom and Patrick; and six grandchildren.
Occupation: Volunteer coordinator for Tonganoxie USD 464 the past 16 years. Helped start the Tonganoxie library fun run and is finishing another stint on the library board.
Dream job as a child: Home economics teacher.
"I got the dream job working as volunteer coordinator for the school," she said.
Digging deeper: Morey lived in California for about 23 years. Then she married Jim, who was in the Navy, and they moved to the Tonganoxie area, where Jim grew up.
"Culture shock," Morey said. "It was because I knew no one besides Jim and his mom and dad."
The Moreys lived in Lawrence and then the Kansas City, Kan., area before moving to Tonganoxie.
They both worked at Kansas University Medical Center at one time, while Earleta at one time worked at a bank and then opened her own dry cleaning business where she could also watch her children.
"That's what I did with spare time," Morey joked. "I raised children."
Years later came the opportunity to serve as volunteer coordinator for the Tonganoxie school district — and the chance to be around children.
"I was retired before I went back to work," Morey said.
The volunteer center assists with laminating items for teachers and other duties. The center also puts on a book fair twice a year, proceeds from which help to provide books for all students.
Morey said she loves to see kids go progress through the elementary school grades and then see them as middle school and high school students. She said oftentimes they remember her from their early years, which is gratifying, she said.
And though she started out in California, Morey said she's glad she ended up in Kansas.
"I love the people and I'm glad we got to get our kids through school here," Morey said.