Sandburg secures fourth state golf bid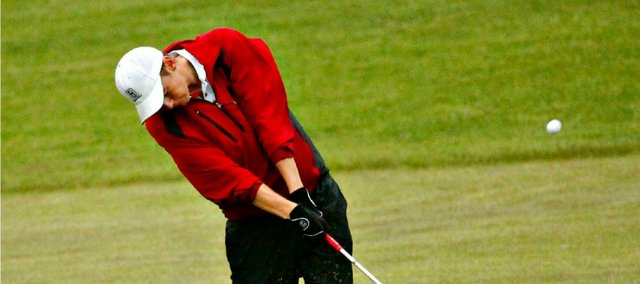 For the fourth time in his Tonganoxie High career, Drew Sandburg will represent the Chieftains at the Class 4A state golf tournament.
Sandburg became the program's second four-time state qualifier Monday, finishing third individually in a regional tournament hosted by THS at Sunflower Hills Golf Course in Bonner Springs. He battled through a stiff wind to finish with a 79, just two strokes behind champion Eric Pahls of Piper. Bonner Springs' Marc McClain took second with an 80.
THS missed the state cut as a team, finishing third in the 10-team field, but Sandburg's individual score was the top mark by a golfer not on a qualifying team. The top two teams and top five individuals not on a qualifying team earned bids to Tuesday's 4A state tournament in Mayetta.
As a team, the Chieftains finished with a score of 375, shaving 13 strokes off their team score from the Sunflower Invitational on March 22 at the same course. Piper won the team title with a score of 328, beating out runner-up Bonner Springs by 30 strokes.
Isaac Jones finished two spots shy of an individual state bid with a 93, good for 13th place overall. Nathaniel Laundy finished four spots behind Jones with a 97, followed by Matt Scharff (106), Heath Martin (108) and Ben Lanza (110).
Sandburg, who joins 2012 grad Colby Yates as four-time state qualifiers, will wrap up his Chieftain career Tuesday at Firekeeper Golf Course. He placed seventh at last year's state tournament in Cheney and helped THS to runner-up team finishes at state in 2011 and 2012.
Overall team results
Piper, 328; 2. Bonner Springs, 358; 3. Tonganoxie, 375; 4. Bishop Miege, 390; 5. Bishop Ward, 399; 6. Perry-Lecompton, 399; 7. De Soto, 404; 8. Basehor-Linwood, 407; 9. Atchison, 464; 10. Spring Hill, 507.