Tonganoxie
USD

464 honors retirees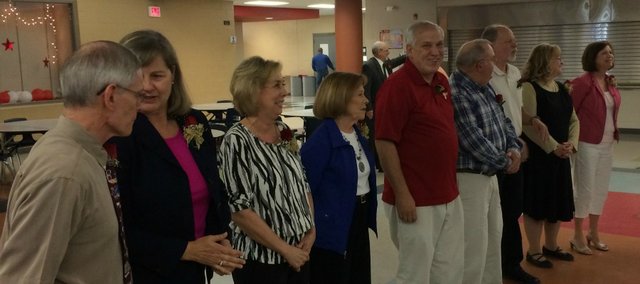 What do John the Baptist and Winnie the Pooh have in common?
The same middle name.
That joke was courtesy of Gail Drake at a retirement party last week that honored several longtime Tonganoxie USD 464 faculty and staff members.
Drake, who started with the district as board clerk in 1986, is known for telling jokes. And she, of course, couldn't stop with one.
"What do 50 deer and 50 pigs equal?" Drake asked.
The punchline: "One hundred sowsand bucks."
Drake's jokes filled the Tonganoxie Middle School commons area with laughter, as did several stories colleagues shared about retiring faculty.
Technology director David Milhon introduced Drake, who is retiring as the district's technology secretary.
Drake joined a long list of retirees who were honored at the reception: Tonganoxie High School counselor Kathy Walker, THS math teachers Mark Mall and Keith Gilliland, THS chemistry teacher Ron Lewis, TMS teachers Janet Burnett and David Wahlgren, THS secretary Julie Bernard, Tonganoxie Elementary School principal Tammie George and Superintendent Randy Weseman.
Elementary school
Ty Poehl, TES assistant principal who will take over for George, spoke about the longtime administrator who came to Tonganoxie in 1994 as a teacher.
Poehl said they made a good team, like Starsky and Hutch and other compatible duos.
He also said he learned from George on how to handle various issues that need to be tackled.
"Sometimes you just need to slow down," Poehl said, reiterating some of George's advice.
High school staff
Walker came to Tonganoxie in 1974 after two years teaching in Baldwin City.
THS principal Jamie Carlisle said that when he arrived in Tonganoxie seven years ago, he was told that he couldn't let Walker retire, as she was extremely important to the district.
"She is excellence through and through," Carlisle said.
The principal also spoke about Bernard, who started with the district in 1987.
Carlisle talked about how key Bernard has been as an assistant to him in the east campus office.
THS assistant principal Brent Smith had several teachers about whom he spoke during the reception.
Gilliland retired after 35 years of teaching — one in Topeka and the rest in Lawrence — before coming out of retirement 10 years ago to teach algebra at THS.
Smith actually taught alongside Gilliland in Lawrence.
He said he looked up to Gilliland as a teacher and coach, noting the only way to beat Gilliland as a coach would be to cheat.
The assistant principal remembered coming to Tonganoxie and hearing students calling Ron Lewis "Lewis" or "Lew." Smith thought it was a sign of disrespect, but said he quickly realized the students had great admiration for the chemistry teacher, who came to Tonganoxie in 1988 after 10 years as a chemical engineer with Phillips Petroleum.
"So we all know he's smarter than most of us," Smith said.
Smith said Lewis always has been available to help students with homework, even those returning from college.
And Lewis never is short on school pride, as he's been known to say, "It's a great day to be a Chieftain" regularly, Smith said.
Mall taught in Tonganoxie as long as Walker, also coming to USD 464 in 1974.
Carlisle said he asked Mall if he would reconsider retiring.
"It's not a career, it's a passion for him," Carlisle said. "You don't want that to leave."
Middle school faculty
One of the most memorable tributes at the reception came from Lori Bottenfield, who retired last year. She spoke about Burnett, her longtime colleague who once took Mike Bush's box tops as a prank because his class always had the most.
Bottenfield also displayed Burnett's Luke Skywalker life-size cutout, which someone had taken from her as a prank years ago.
Burnett, Bottenfield noted, was a "collector of crap."
In the end, Bottenfield commended Burnett for all her years in education and welcomed her to the retirement club.
Wahlgren was the other TMS teacher to retire this year.
He came to Tonganoxie in 2002 after teaching for 33 years in Johnson County.
Fellow TMS teachers Rachel Padfield and Lea Mielke read a poem they wrote in Wahlgren's honor.
"Coached too many sports, never just a fan, now we call him the Marathon Man," the poem read. "From East Coast to West Coast, he's raced 484.7 miles. He's even run in Sweden and the Hawaiian isles."
District office
Tonganoxie school members told of what Weseman has meant to the district. During his short tenure at Tonganoxie after a long career in Lawrence, Weseman helped pass a bond issue, reconfigure the local special education cooperative and update board policy.
Board member Kathy Baragary said board policy might sound boring, but it's important.
She also joked that Weseman played a mean guitar during a school event, which might have helped THS win the title of "Cool School" from a Kansas City television station.