THE

WAIT

IS

OVER

:

THS

baseball headed to state
Chieftains outlast
BLHS

for first state bid since '92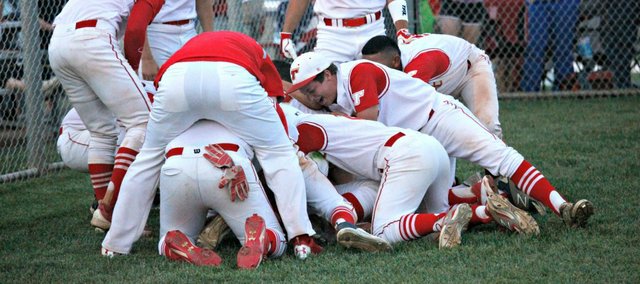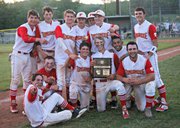 Mitch Loomis is no stranger to close games in regional play.
Both as a head coach as an assistant, the Tonganoxie High baseball coach has seen his squad battle into the deep innings of numerous postseason contests, only to be turned away in the end. But, with one of the program's best seasons in decades on the line Monday evening, the Chieftains turned a corner at just the right time.
Following a pair of one-run victories against Kaw Valley League opponents — one that took two extra innings — THS is headed to state for the first time in 22 years.
THS punched its ticket to the inaugural Class 4A-I state tournament with a 4-3 win against Piper and a 2-1, nine-inning win against Basehor-Linwood on Monday at the Leavenworth County Fairgrounds. The Chieftains never trailed in either contest, but relied on strong pitching and timely defensive plays to secure their first state bid since 1992.
"A lot of years of frustration and sadness have just come to a head," Loomis said. "I told our guys a few years ago that I knew we'd get here eventually. To win it for the kids we have, the kids that have graduated before them and our town, that's the best feeling in the world."
After surviving a late rally against Piper, the Chieftains (15-7) found themselves in a 1-1 tie with BLHS (9-13) after the regular seven innings. They got a bases-loaded opportunity in the eighth when Tyler Novotney reached on an error and pitcher Avery Fliger intentionally walked Shane Levy and Connor Wentz-Hall, but a Thomas Minor flyout to center field ended the threat. Woods allowed two base runners in the ninth, but struck out the side to keep the game tied. Ty Hampton took a pitch to the helmet to open the bottom of the inning and moved to second on a wild pitch with Billy Kelley at the plate, then broke for third on a bunt attempt.
First baseman Ashton Findley fielded the bunt and threw to third, but his throw went past third baseman Andrew Magana and into left field. Hampton cruised the final 90 feet and was mobbed by teammates after touching the plate.
THS struck first when Levy singled home Brady Swedo in the first inning, then BLHS answered with an RBI single by Brock Gilliam in the third. The Bobcats got a chance to take the lead in the fifth when Jake Hahn singled with Dalton Inlow at second base, but Novotney threw a strike from left, nailing Inlow at the plate and keeping the tie intact. One inning later, center fielder Colten Weaver and Swedo teamed up to gun down Findley at third base when he tried to stretch a double into a triple.
Chieftain junior Justin Wagner complemented the big defensive plays with arguably the best pitching performance of his career, giving up just one run in 7.1 innings. He gave up six hits, walked one batter and hit another, but racked up eight strikeouts.
"He's come so far since he was a freshman," Loomis said. "He was sensational mentally and physically and just did everything he needed to do. I told him 'you've got a chance to put us on your back and take us there,' and he certainly did."
Woods, who pitched all seven innings against Piper, relieved Wagner with one out in the eighth. He gave up a bloop single to Abe Ruffcorn after getting Findley to fly out, but struck out Tyler McClarrinon to end the inning.
"(Loomis) pulled the whole infield in, looked at me and said 'you got anything left?'" Woods said. "I was antsy, but I've wanted this game and I wanted to be in that position."
THS will have more than a week off before it opens state competition May 29 at Dean Evans Stadium in Salina. The 4A-I bracket won't be released until regional play is completed Thursday. Andover Central and Andale/Garden Plain also won their respective sub-state tournaments Monday, but the five remaining spot have yet to be decided.
If the Chieftains win their state opener Thursday, they'll get two more games Friday, but a first-round loss would end their season.
"We'll just kind of fine-tune everything the best we can," Loomis said. "We've obviously got to swing the bats a little better down there. It's going to be eight really good teams down there and we're going to have to win games like we won (Monday). The goal is to get out of the first one and see what we can do on Friday."
Tonganoxie 4, Piper 3
THS scored four runs in the first inning, then withstood a Piper rally in Monday's sub-state semifinal matchup.
The Pirates grabbed a 1-0 lead in the top of the first, but Wentz-Hall put the Chieftains in front with a two-run double in the bottom of the inning. Kelley then drew a bases-loaded walk and Weaver added an RBI single to make it 4-1, and that's where the score remained for four innings.
Piper got within one run in the fifth with runs by Colton Beebe and Lucas Smith, but Woods was able to avoid further damage. Piper got its leadoff runner on base in each of the final two innings, but key defensive plays wiped out both scoring threats. A 6-4-3 double play erased a leadoff walk by Gunner Vestal in the sixth — a timely play, as Beebe then doubled — and Kelley caught Nathan Hays trying to steal second base in the seventh.
Woods gave up just four hits in a complete-game effort, striking out nine and walking two. THS managed just five hits and struck out six times in a combined effort from Pirate pitchers Beebe and Kenny Delaquila.
Tonganoxie 2, BLHS 1 (9 innings)
BLHS 001 000 000 — 1
THS 100 000 001 — 2
Tonganoxie 4, Piper 3
PHS 100 020 0 — 3
THS 400 000 X — 4