Abdallah Shrine Rodeo today: 'Here for a reason'
Rodeo clown finds calling in rodeo, football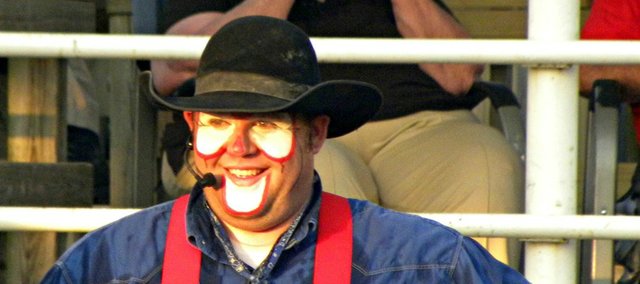 Shawn Thompson knows he's been put on this planet for a reason.
The rodeo clown, who will be making fans laugh Thursday and Friday at the annual Abdallah Shrine Rodeo in Tonganoxie, is a cancer survivor.
In 2002, he was diagnosed with Stage 4 Non-Hodgkin lymphoma.
And now, 12 years later, he's cancer free and still above dirt. So he figures God has a plan for him.
And his plan Thursday and Friday at the Leavenworth County Fairgrounds is to entertain fans at the rodeo.
The Sidney, Iowa, man got his start as a rodeo clown by accident. He smarted off to a teacher in high school who asked what he wanted to do after graduation.
"A rodeo clown," was his sarcastic reply.
The teacher, whose sister was involved in rodeo, knew exactly how he should go about becoming one.
So Shawn went to a bullfighting school and got involved in rodeo. Four years later he realized he was better at being funny than he was at bullfighting, so he traded in his cleats and started in the comedy thing. That was in 1998, and he's been going ever since.
Thompson, who is 39, has a variety of acts.
He does a Kenny Chesney act, American Idol act, among others, and is a big believer in crowd participation.
"I'll grab people out of the crowd," he said.
He chooses what act he does depending on the crowd.
"I'll feel out the fans, and see what I think will fit," Thompson said.
When he's not on the rodeo trail, he works as a special education teacher, head junior high football coach and assistant high school coach. There are a lot of similarities between teaching and rodeo clowning, he said.
For the kids in the classroom, and for fans he said "you've got to keep it fresh, be willing to have fun, and you never know what's going to happen"
"You have to be quick on your feet and ready to go with the flow," Thompson said.
He got his start coaching football when he was diagnosed with cancer.
"I was sick and couldn't work, so I took some time off. I decided I couldn't sit there and die, so I followed a passion I had," he said.
Thompson got his coaching endorsement and became a volunteer coach. Two years later, he was offered the offensive line assistant head coach for the junior high team.
And he uses his vocations of rodeo clowning, teaching and coaching to inspire others.
"I'm a big believer that God has me here for a reason," he said. "Good things are in store for you if you keep trucking along."
Thompson will entertain during both nights of the Shrine Rodeo at the Leavenworth County Fairgrounds. The rodeo begins at 7 p.m. Thursday and Friday. Tickets range in price from $12 for adults to $4 for children ages 6-12, and are available at B&J Country Mart in Tonganoxie and at the Shrine Rodeo office (5300 Metcalf Ave., Overland Park), and by phone at 913-362-5300.
A demolition derby will start at 7 p.m. Saturday at the fairgrounds.
For more information, visit ShrineRodeo.com or call the Shrine office at 913.362.5300.